Creating a patchwork around the city, Cologne has 86 official neighborhoods or Veedels as they are known in the local Kölsch dialect. Each neighborhood has a distinct vibe or character, crafted by those who used to live there, who live there now and who are moving in. While the exact restaurants or cafes may change, the feeling of each neighborhood seems to be ephemeral. In this blog post, we are going to break down some of the key differences and characteristics of Cologne's coolest neighborhoods.
One of the best ways to get to know the local Kölsch culture is by exploring different corners of Cologne. Locals are really proud of where they live, something that you will feel as a visitor in Cologne. One of the most common questions local people will ask when first getting to know someone new is "Where in the city do you live?"
Because each neighborhood is unique, wandering through a few different veedels during your visit will give you a different impression of Cologne. At Art of Touring, we love to show visitors off-the-beaten path attractions. We offer a walking tour of the Belgian Quarter neighborhood, but we can also create custom walking tours if you are interested in seeing other veedels in Cologne. Contact us today about crafting a unique neighborhood walking tour!
These are the Coolest Neighborhoods for Travelers in Cologne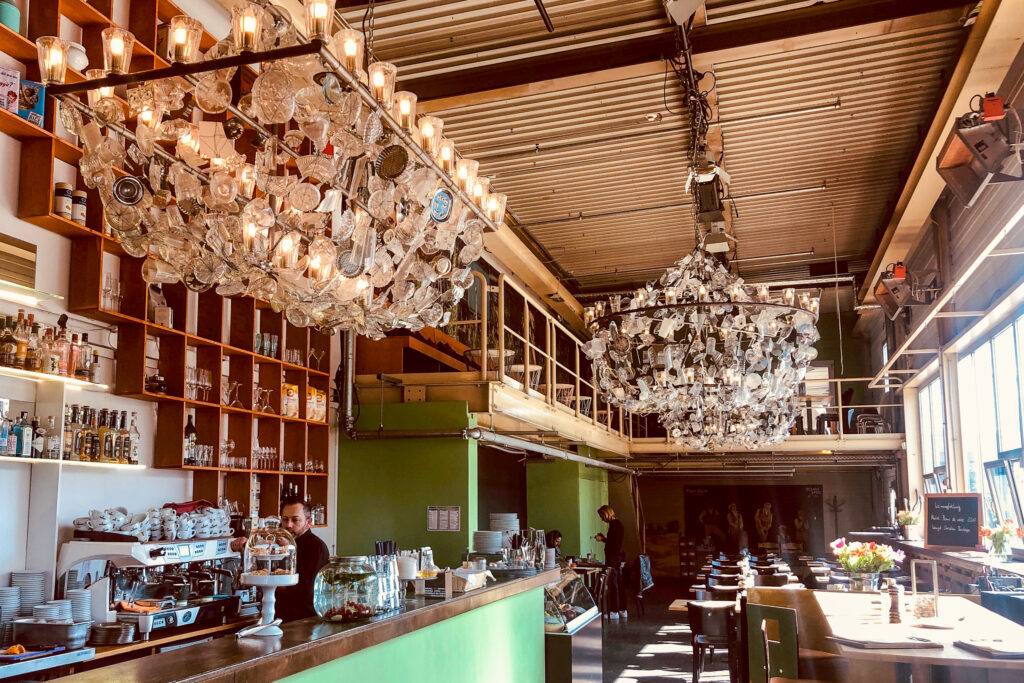 Ehrenfeld
Locally known as Cologne's hipster district, Ehrenfeld can be found on the northwest side of Cologne. It has a gritty, urban sort of vibe, and many compare it to Berlin, although on a much smaller scale. It will take 40 minutes to walk to Ehrenfeld from the city center, or you can easily ride one of the Straßenbahn or Ubahn to Köln-Ehrenfeld station.
This is the undisputed hub of street art in Cologne, and it is a must-see neighborhood if you love murals and graffiti. You'll start to see street art as soon as you get off the train, and it is a fun neighborhood to simply wander. You're bound to discover something cool! We summarize and discuss our favorite street art in Ehrenfeld in our post about Cologne's Street Art scene.
There is an array of interesting places to visit in Ehrenfeld. Before heading out for a walk, fuel up on caffeine at Van Dyck, Cologne's best espresso bar. You can also grab a tasty breakfast or slice of cake at the delightfully branded Café Rotkehlchen. Hunt for some vintage clothing gems at the colorful Polystershock or the locally beloved Kleiderei Köln.
Traditionally, Ehrenfeld was a home for immigrants and new residents just arriving in Germany. You'll see a variety of cuisines featured here, including Turkish, Cuban and pan-African. Tucked under the train tracks, Kebapland is a no-frills joint with some of the best kebab and döner in Cologne. MALOA Poke Bowl is a popular place for lunch, offering a wide assortment of healthy options. For dinner, WALLCZKA is an excellent choice. The swanky minimalist interior sets the stage for the reinvented and refined menu of globally-inspired fare and meze plates.
Belgian Quarter
If there was only one neighborhood to visit in Cologne, it would probably be the Belgian Quarter. Largely agreed to be the coolest neighborhood in Cologne, the Belgian Quarter offers an offbeat yet loveable vibe that is quintessentially Kölsch. Some long-time Cologne residents might argue that the neighborhood has gentrified too quickly, but the Art of Touring team disagrees. We love to feature this neighborhood on our alternative Cologne walking tour!
Rudolpfplatz serves as the gateway to the Belgian Quarter, and there are a number of interesting attractions to see around the square. The heart of the neighborhood spreads out from Brüsslerplatz on the side streets between Aachenerstraße and Venloerstraße. It won't take long to wander through this relatively small area, but we are confident you'll need a few hours – there are just so many places to pop into!
The Belgian Quarter is ground zero for independently owned fashion boutiques and gift shops in Cologne. This is the best area for local shopping, because you'll find marvelous, curious things you never knew you needed. Schee offers a massive assortment of art prints created by local artists. Purchase some Cologne city swag at MAGASIN 2, a men and women's clothing boutique. Sample some high quality peppercorn at Hennes' Finest Pfeffer-Boutique or pick up a gorgeous boutique of flowers at Goldregen Floral design.
The Belgian Quarter is also one of the best districts for street art in Cologne. While there are a number of large murals, the magic of the street art in the Belgian quarter lies in the small details. Stickers and paste-ups cover whole buildings in small, striking detail. Some of the stickers are political, some are jokes and some are simply small expressions of pure beauty. Once you start noticing these small works of art, you can be captivated by a single doorway for hours!
Südstadt
For a glimpse at one of Cologne's most liveable neighborhoods, head Südstadt, which literally translates to south city. Südstadt feels like a neighborhood that belongs to the people who live in it. You'll see all walks of life here, from parents with their children, retirees enjoying an ice cream on the street, or young couples walking their dogs.
The center of this neighborhood is Chlodwigplatz, a large public square backed by Severinstorburg – an imposing stone tower that dates back to Cologne 's medieval city fortifications. Chlodwigplatz hosts a weekly farmers market on Thursdays and a charming neighborhood Christmas market in December. This square is also the starting point for the Cologne Karneval parade on Shrove Monday. You can learn more about Cologne's obsession with Karneval here.
There are a number of noteworthy restaurants, cafes and shops in Südstadt that draw residents from other neighborhoods to spend an evening here. Pick out some high-quality Fair Trade clothing at LANIUS Store just off of Chlodwigplatz, or find a locally made gift or art print at Frau Schmitt. Before dinner, grab a glass of wine at the cozy Südstadt wine bar, Weinkneipe Zur alten Wettannahme.
For food options, Die Fette Kuh is regularly rated one of the best burgers in Cologne. Pottkind is an intimate and cozy fine dining restaurant, perfect for a date night or special occasion. If you're looking for a break from Kölsch beer but still want a brauhaus experience, check out Johann Schäfer. This Süstadt micro brewery offers a varying selection of beer, including a house brewed Pils and Hell, alongside a selection of Kölsch.
Agnesviertel & Nippes
Located directly north of Cologne's old town, Nippes and Agnesviertel are upscale and fashionable neighborhoods. While it has working-class roots, Nippes has grown in popularity in recent years, bringing trendy boutiques and vegan grocery stores into the neighborhood. This neighborhood is especially popular with upwardly mobile young people, so you'll certainly pass stylish Millennial parents with the latest state-of-the-art baby stroller.
One of the loveliest things about Nippes & Agnesviertel is the architecture. These neighborhoods absorbed slightly less bombing damage during WWII, so the pale painted stucco houses and ornate detailed millwork can be appreciated from the street. A walk around Leipzigerplatz offers the best views of these older houses.
Neusserstraße is the main thoroughfare for Nippes and Agnesviertel. You will find it lined with appetizing restaurants and adorable shops. Grab a seasonal flammkuchen at Feuer & Flamme, or sip a delicious cup of coffee at the popular Coffee Gang. Find some cool home decor accessories at the beautifully styled Mrs. Goodwill, or pick up an unusual houseplant or quirky vintage jacket at Mooii.
These types of neighborhoods aren't typically known for their street art, but in Cologne's case, you'll find some of the best murals along the residential streets of Agnesviertel. One of the most striking murals can be found on Neusserstraße. Created for the Cityleaks festival in 2017, the image depicts two babies in an arcade machine. The viewer gets the impression of catching one of them in your metallic claw! It is intended to be political, potentially sparking debates about designer babies or the "consumption" of babies as lifestyle accessories.
Latin Quarter / Studenten-Viertel
The Latin Quarter, which is also locally known as the student quarter, is located very close to the University of Cologne in southwestern corner of the city. Along with Ehrenfeld, the Latin Quarter is one of the best neighborhoods for nightlife. Before heading out for drinks, enjoy the best schnitzel in Cologne at the long-standing Bei Oma Kleinmann. This corner joint has hosted a number of famous guests, including Anthony Bordain and Bill Clinton.
There are a number of popular bars lining Zülpicherstrasse, as well as street food stands for late-night munchies. Mangal Döner is worth a stop! Rathenauplatz is a park in the heart of the neighborhood, and during the summer months, a community-run beer garden opens! Located just a few steps away from the Zülpicherstrasse nightlife, the beer garden in Rathenauplatz welcomes locals and travelers alike. You can admire people playing bocce (or boules) or enjoy live music while driving your Kölsch.
With such a youthful vibe, it is probably not surprising that the Latin Quarter also has some great street art. The Low Bro's Fox is one of the most iconic pieces in the neighborhood as well as Debug Visuals mural which covers the entirety of the Stiefel bar. We also love Off Broadway, the local movie theater in the Latin Quarter. It regularly shows original version (OV) English films and arthouse cinema films. 
Did we miss any of your favorite Cologne neighborhoods? Comment below!