Cologne is well known for many things – the historic Dom Cathedral, its beloved beer Kölsch, epic Karneval celebrations – but one thing you might not know about Cologne is the abundance of street art. Street Art in Cologne is bursting with creativity and color! From large murals painted on building facades to tiny stencils and mosaics, exploring Cologne's artistic side is one of the best free activities to do in the city.
In this post, we are listing the 5 best neighborhoods to visit for must-see street art murals in Cologne. Street art in Cologne is constantly changing with new murals being painted and old murals being painted over, so don't hesitate to get a little lost discovering new art pieces! We've put together this list with local suggestions and well-known street art favorites in Cologne.
5 Best Neighborhoods to See Street Art in Cologne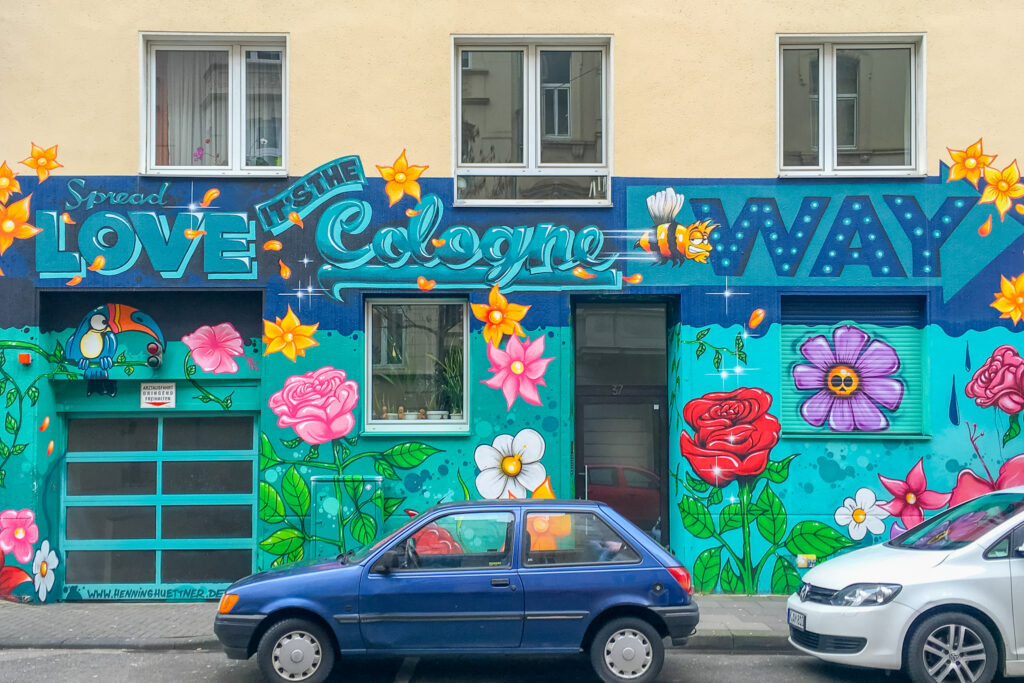 Ehrenfeld
Ehrenfeld is Cologne's hipster district, located on the northwest side of Cologne. It will take 40 minutes to walk there from the city center, or you can easily ride one of the Straßenbahn street trains to Köln-Ehrenfeld station. This is the undisputed hub of street art in Cologne, and it is a must-see neighborhood if you love murals.
From photorealistic paintings to cartoons and surrealist-inspired scenes, you can find many different street art styles in Ehrenfeld. Some of the artists featured in Ehrenfeld include Tika, M-City, Roa, Captain Borderline, Huami or Rakaposhii. There is a density of murals in Ehrenfeld which is unrivaled by any in Cologne, and you can turn down practically any street to discover cool street art. One of the best ways to enjoy the murals in Ehrenfeld is by walking or biking.
Starting from the playful cartoons on the walls underneath Ehrenfeld's S-Bahn station, the district offers works by local and international artists. You can find a number of murals along the following streets: Stammstraße, Bartholomäus-Schink Straße, Heliostasse, Volgesangerstrasse, and LIchtstraße. Simply following these streets will take you past around 40 artworks!
Our favorite street art mural in Ehrenfeld is an enormous Leopard on Gutenbergstraße. It lies a little further off the beaten track but is a rewarding sight. The neighborhood also hosts bunker k101, a former WWII bomb shelter which is now a protected historic building and exhibition space. It is itself well worth a visit.
Belgian Quarter
The Belgian Quarter is one of the most popular neighborhoods in Cologne, thanks to an incredible assortment of bars, restaurants, and locally owned shops. It also happens to be one of the best districts for street art in Cologne too!
Most of the murals in the Belgian Quarter lie between ​​Aachenerstrasse and Venloerstraße, some of which were painted during the CityLeaks Urban Art festival. One of the most striking images is called "The Queen of the Night" on Brüsseler Straße by the Swiss artist TIKA (Maja Hürst). The dark stylised image of a woman covers the whole facade, with the woman's hair stretching out to form astronomical constellations. It is a piece which uses not only paint but also other materials to make the whole work sparkle.
The magic of the street art in the Belgian quarter lies in the small details. Stickers and paste-ups cover whole buildings in minute details. Some are political, some are jokes and some are simply small expressions of pure beauty. Once you start noticing these small works of art, you can be captivated by a single doorway for hours!
If you're looking to bring home a little bit of art, stop in one of the prestigious art galleries in the Belgian Quarter. KUNSt&So exhibits works by street artists and also hosts monthly events for the Cologne Street Art scene. For a gallery actually owned by a street artist, visit 30works Galerie. Thomas Baumgärtel, also known as the "Banana sprayer", has been spraying his banana stencil all over Cologne since the 1980s. Making use of stencils to put the image up quickly, the bananas signify that the building on which they are found is connected to art. In other words, it is an unofficial "quality mark" or logo of the art scene. Over 4,000 galleries, museums and art schools have been honored with a banana, in Germany and further afield.
Agnes-Viertel & Nippes
Located directly north of Cologne's old town, Nippes is an upscale neighborhood that has a calmer, village-like feel. You'll immediately notice the pale painted houses and ornate details, as well as fashionable parents with the latest state-of-the-art stroller. These types of neighborhoods aren't typically known for their street art, but in Cologne's case, you'll find some of the best murals along the residential streets.
The most striking street art in Nippes can be found in a car park just off Neusser Straße, behind Galeria Kaufhof. Created for the Cityleaks festival in 2017, the image depicts two babies in an arcade machine. The viewer gets the impression of catching one of them in your metallic claw! It is intended to be political, potentially sparking debates about designer babies or the "consumption" of babies as lifestyle accessories. Whatever your view, it is undeniable that the artists, Innerfields, have achieved something special here.
Works that are less politically challenging, but nonetheless beautiful, are also to be found around the Nippes S-Bahn station on Escher Straße. Here you can see an incredibly detailed 3-D mural from the Cologne artist Ali Yünlü. And just a few steps away a mural of a bird, by Captain Borderline, looking resplendent with its colorful feathers. If you are hungry for more murals in Nipples, take a look at the street art "hall of fame" on the supporting columns underneath the Nr. 13 metro line at Neusser Straße Gürtel.
Mülheim
Across the Rhine river, Mülheim is an up-and-coming neighborhood in eastern Cologne which is full of street art waiting to be discovered. You'll find that this neighborhood has a grittier feel to it with refurbished warehouses turned into event spaces and a number of empty lots just waiting to be redeveloped. Mülheim boasts a number of impressive murals by internationally acclaimed street artists. Some recognizable names include Hense, Axel Void, Franco Fasoli and Ammar Abo Bakr.
At the center of Mülheim's street art fame is MüTZe park. A community center sits in the center of this park, and on nearly every wall and gate surrounding the park is a rotating assortment of street art murals. Often painted in graffiti style, this is a great place to feel the pulse of Mülheim and the current issues and topics facing this community. Another popular area for street art is the paste-up gallery below Mülheim Bridge which recently when through a restoration.
The so-called "Kalk Alp", this is actually a man-made hill rising 30 meters above the surroundings, which was formerly a waste dump site. On the north side lies a wall running for over 150m which has the function of supporting the hill. For years the wall was grey and dreary but now it has been transformed into a canvas of sci-fi inspired street art. 40 professional graffiti artists were selected from an open competition and were given the honor of contributing their particular vision to the site. The project was also accompanied by workshops for local teenagers and was supported by the local authority.
Südstadt & Latin Quarter
For a glimpse at one of Cologne's most liveable neighborhoods, Südstadt is a perfect example. This part of the city really feels like it belongs to local people. You'll see all walks of life here, from parents with their children, retirees enjoying an ice cream on the street, or young couples walking their dogs. There aren't as many street art murals in Südstadt as Ehrenfeld or Nippes but the ones that are here are lovely.
Two of the most impressive and large-scale murals can be found along the banks of the Rhine. The first is a pixelated rainbow mural painted by Brazilian street artist Gais. Spanning the entire height of a building, you can get great photos of this from across the street. Just two blocks down the street is a new mural painted by MILO. It depicts a couple hugging and embracing. Similarly, it is painted across the entire height of a building.
Also nearby to Südstadt is the Latin Quarter, which is also locally known as the student quarter, thanks to its close proximity to the University of Cologne. There are a few large murals in this area, such as the Low Bro's Fox or Debug Visuals on the entirety of the Stiefel building. But this neighborhood also invites you to discover a smaller murals by SeakOne and Marcus Krips. The murals in the Latin Quarter tend to change a lot, so you'll be sure to discover some new ones during your street art tour in Cologne.
Bonus Street Art in Cologne
Once you start looking, you will find street art all over the city of Cologne, even in the historic old town. Whether it's small stickers, painted electric utility boxes or quick paste-ups under bridges, there is always something to notice if you are alert.
Keep your eyes peeled for an especially noteworthy collection of small street art pieces in Cologne – the alien space invaders! These tiny tile mosaics appear 27 times around Cologne, always depicting pixelated monsters or creatures. Think of them almost like pac man characters! They are part of a global project created by an anonymous French artist known as Invader. Only a handful of people know his true identity. But one thing is for sure: he is very committed to his project of invading the world with his tile critters. There are now 3,870 worldwide!
Want More Street Art in Germany?
We are lucky to have neighboring cities with their own stunning street art neighborhoods. Our favorite is Düsseldorf. We love the street art there so much that we've written a whole article about it.