One of the best times to visit Germany is during the Christmas season, when you can experience the wonder and magic that is a German Christmas market. Called Weihnachtsmarkt in German, these seasonal markets pop up in nearly every city around the country. Running from the end of November until December 23rd, this tradition is alive and well in the city of Cologne. 
There are more than 10 official Christmas markets! You'll also stumble upon neighborhood events and tiny markets. Cologne has some of the most memorable Weihnachtsmarkt in all of Germany – and they regularly appear on lists of must-visit Christmas Markets.
If you were planning to visit Cologne in winter, we recommend budgeting two full days to see all of the city's main Christmas markets. This will give you enough time to get around without rushing between the various markets. Need help planning the perfect Christmas market visit? We can help! Contact us today for guided Christmas market tours and customized seasonal itineraries. 
The seasonal Christmas markets are a beloved local tradition in Cologne. Each market has a slightly different theme or design to it, such as the angel market or the winter fairytale market. This means you can explore multiple markets without getting bored, always enjoying a slightly different selection of stalls and shops. From the warm drinks and charming lights to the unique gifts and delicious food, Christmas is truly the most wonderful time of the year! 
These are the Very Best Christmas Markets in Cologne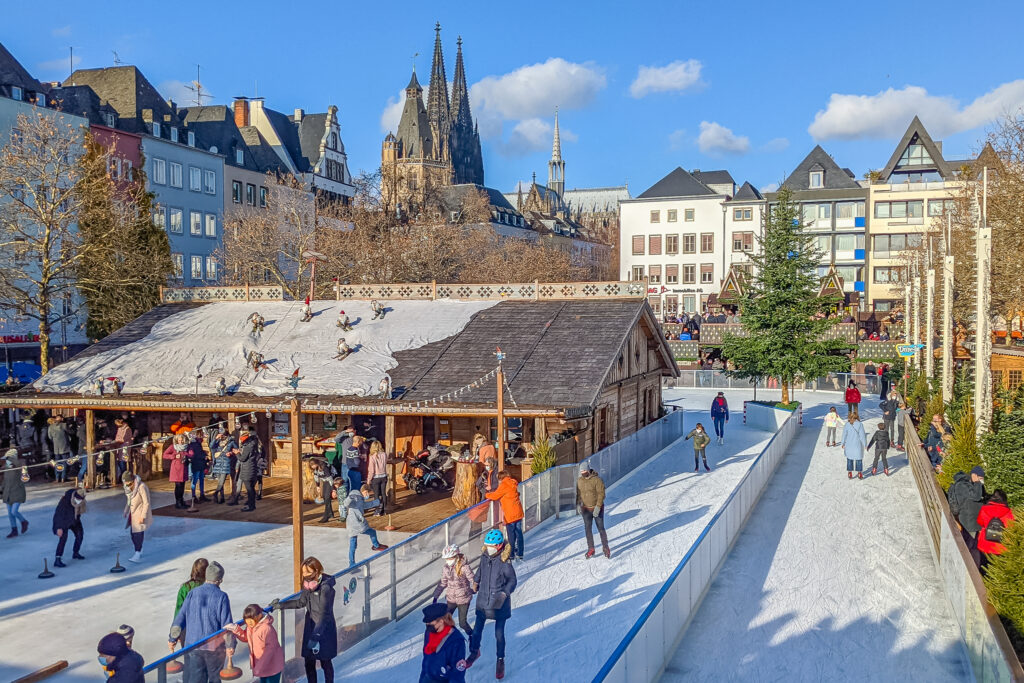 Dom Christmas Market
The most popular and well-known Christmas market in Cologne sits directly next to Cologne's most famous attraction – the Cologne Cathedral! Also called the Dom Market, 150 stalls of food, gifts and drinks are set up on Roncalliplatz with the cathedral as a stunning backdrop. These stalls surround a towering 26 meter (85 feet) tall Christmas tree. These trees are said to be over 80 years old! An expected 2 million visitors come to this market each year. On most weekend days, there is live music and performances at the stage near the Christmas tree.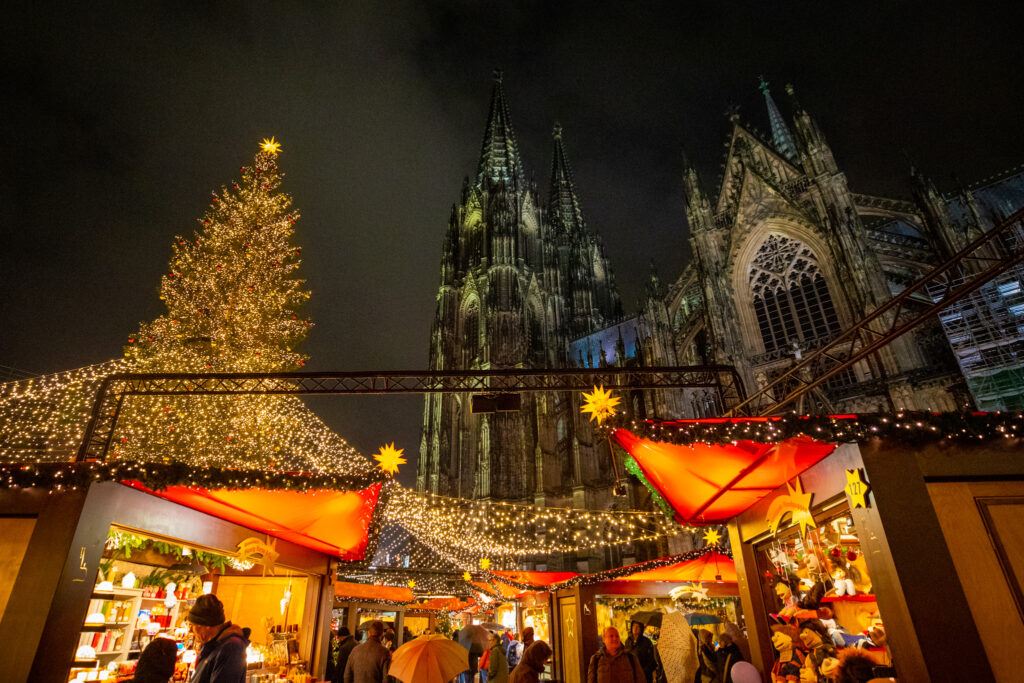 Angel Christmas Market
For a classy, timeless spin on Christmas, the Angel Christmas Market is the perfect choice. This market is located in Neumarkt, a large square between several major tram stations at the end of Schildergasse shopping street. Themed around angels and white christmas, the minimalist wood stalls, strung paper stars and twinkling white lights create a heavenly feeling. It is like something out of a holiday film. With slightly more upscale food options and a number of luxury gift stands, the Angel Christmas Market is a nice place to visit on a date or as a couple, because it has a romantic vibe.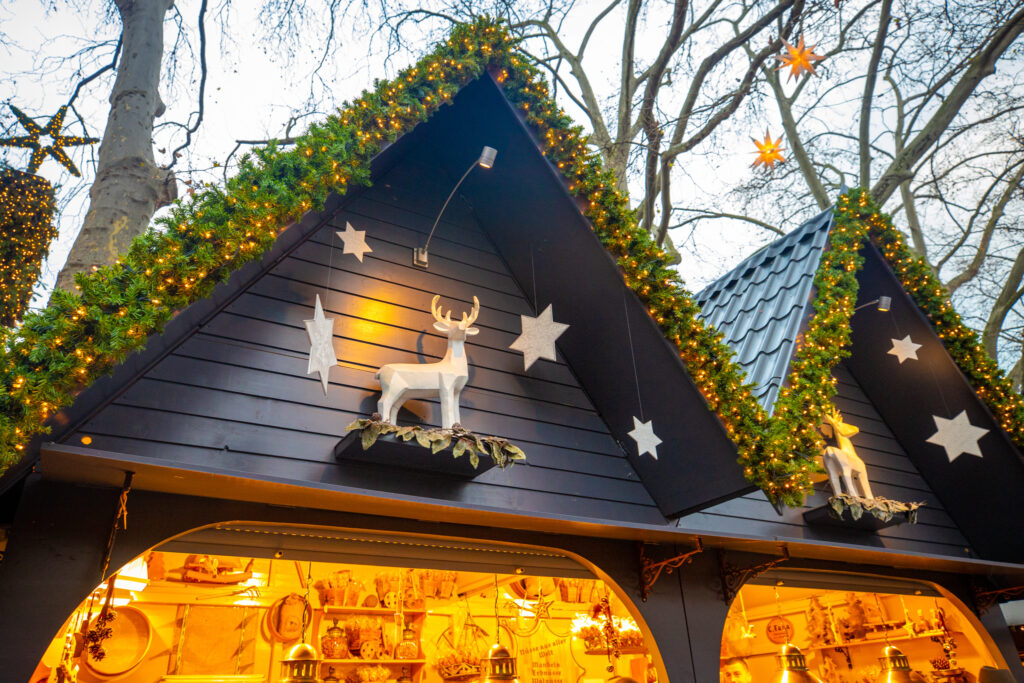 Harbor Christmas Market
Nestled along the famous Rhine river and the popular Chocolate Museum, Cologne's maritime themed Christmas market at the harbor is small but mighty. Our favorite feature of this market is the pirate ship bar, where you can purchase specialty warm drinks and cocktails. There aren't many food stalls here, although the smoked salmon stand is an excellent choice. You can also ride a large ferris wheel for beautiful views over Cologne, especially on a clear day.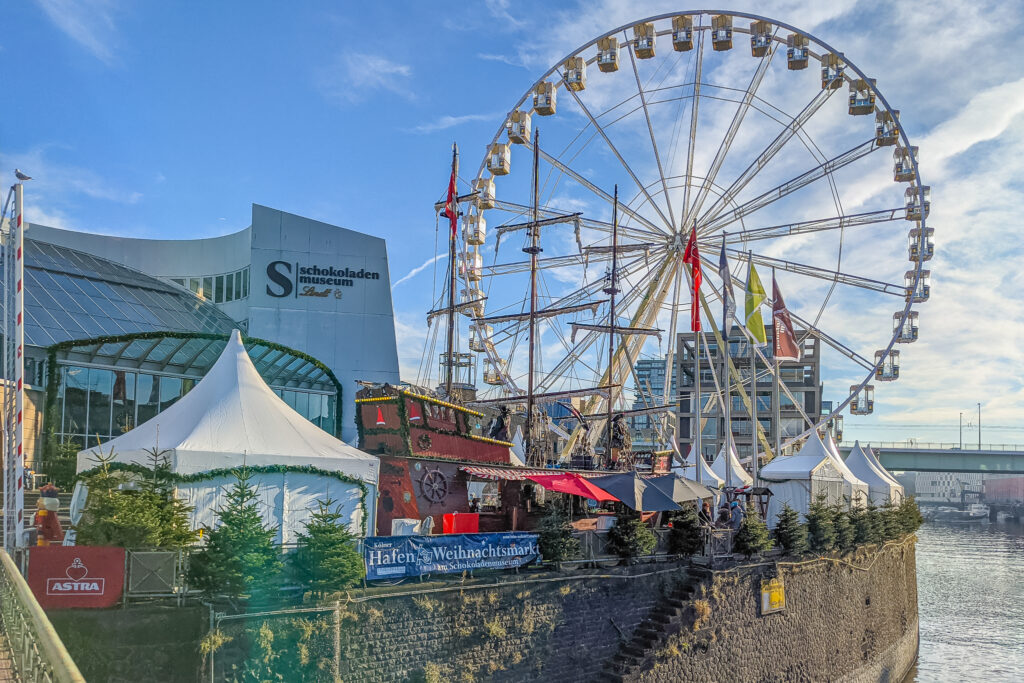 Heumarkt Christmas Market
A local legend that we love to share with visitors is the story of the Heinzelmännchen. As the story goes, the Heinzelmännchen, or mysterious gnomes, secretly completed most of the work throughout the city of Cologne, including bread making, tailoring, etc. One day, they were discovered by an inquisitive housewife, and they went into hiding forever, leaving the "lazy" city of Cologne to do the work for themselves. There is even a statue in front a Früh, one of our favorite Kölsch brauhauses, commemorating this legend. Cologne's cutest Christmas market is also dedicated to Heinzelmännchen! 
Intricately decorated with painted scenes of the gnomes, Heinzels Wintermärchen is the most charming (and best) Christmas market in Cologne. It spans from Heumarkt to Altermarkt with over 100 stands of amazingness. Stepping into this market is like stepping into a fairy storybook! You'll find an ice skating rink, lavishly decorated stalls, and even a tall bridge with a beautiful view of the cathedral. The food options here are excellent, and the gift shops offer lots of variety, including some unique handcrafted and secondhand items.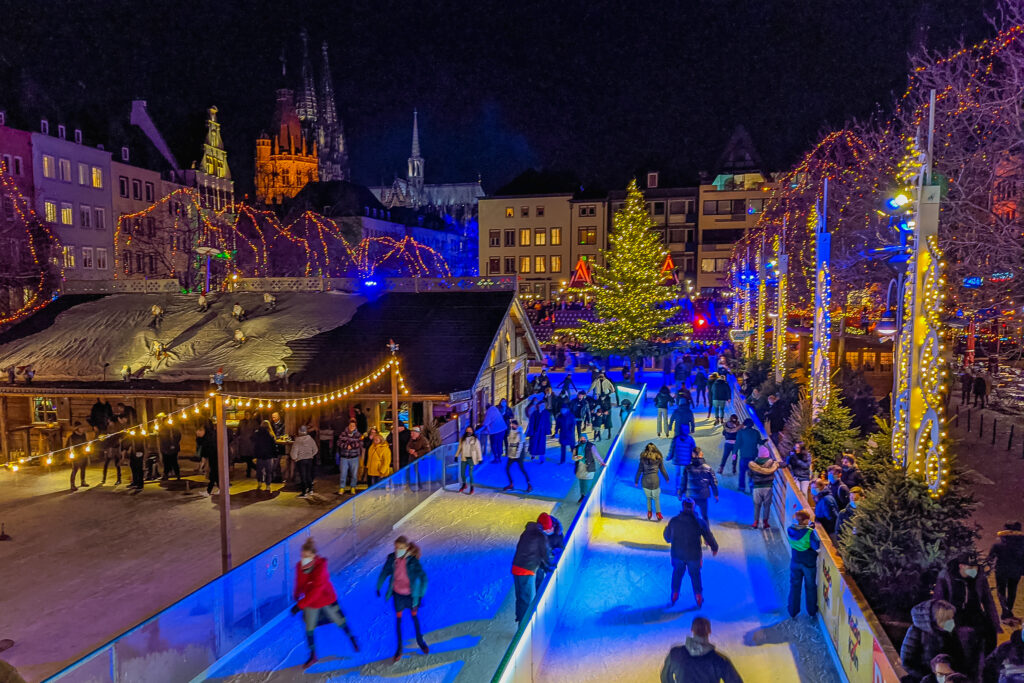 Nikolausdorf Christmas Market
Offering a traditional Christmas market experience with a Santa theme, the charming Nikolausdorf market is located in Rudolfplatz. It sits in the shadow of the medieval Hahntor gate, which dates back to the middle ages. If the half-timber stalls and sea of fairy lights aren't charming enough, look out for santa's sleigh sitting over the shops. There is even a singing reindeer! Nikolausdorf market offers an especially good selection of iconic German Christmas gifts, like wooden ornaments, Nutcrackers, and lighted stars. If you need suggestions for places to visit near Rudolfplatz (or places to warm up after exploring the market), this is one of our favorite areas of the city to explore.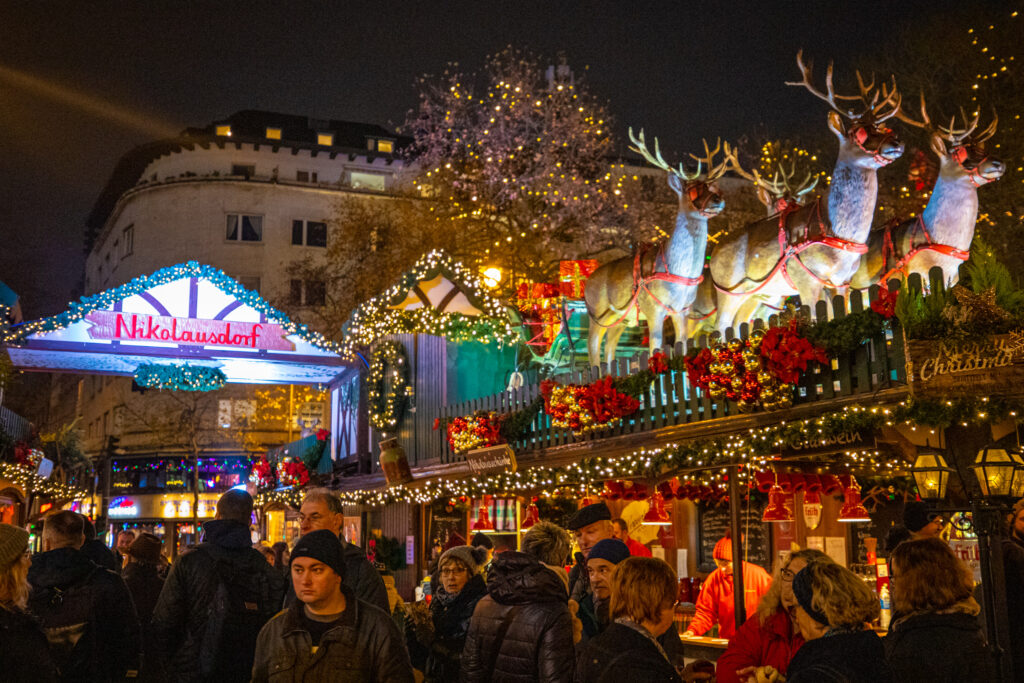 Heavenue Christmas Market
Cologne is known to be the most LGBTQI+ friendly city in all of Germany. It is said that 1 in 7 residents identify as a member of the queer community, and it was even the filming location for the German version of Netflix's "Queer Eye". For a unique experience, stop by for a visit at Heavenue, Cologne's gay Christmas market. It is only one city block, so it is the smallest market on this list. But it won't feel small with the flashy lights, brightly colored garlands, flamboyant decorations and pop music. The best time to visit this market is later at night, when the market comes alive with live music and dancing crowds.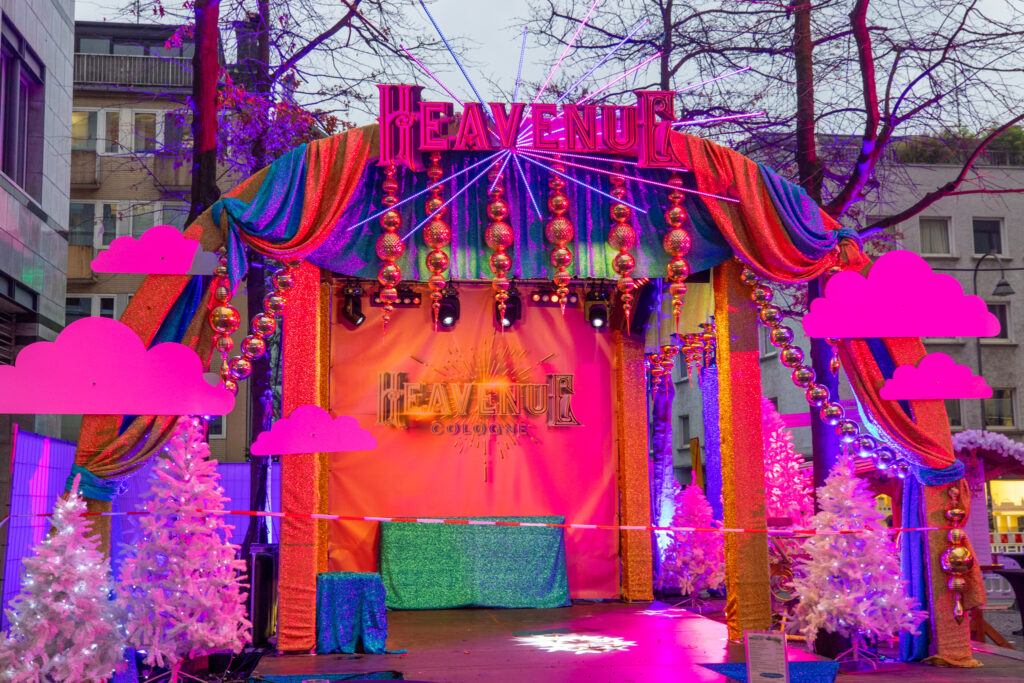 Stadtgarten Christmas Market
Perhaps the least well known market on this list, the Christmas market in Stadtgarten is a closely held local secret. It offers a relaxed vibe with small crowds, giving it an intimate and neighborhood-like feeling. Situated in the heart of one of the city's best parks, this Cologne Christmas market resembles a magical village in the middle of an enchanted forest. Locally owned shops host stalls inside this market, making it an especially good place to buy unique handmade gifts with a Cologne theme. This Christmas Market sits between two of the most popular neighborhoods in Cologne – the Belgian Quarter and Ehrenfeld – so the audience here slants young and hip. It is a great place to come if you want to feel like a local!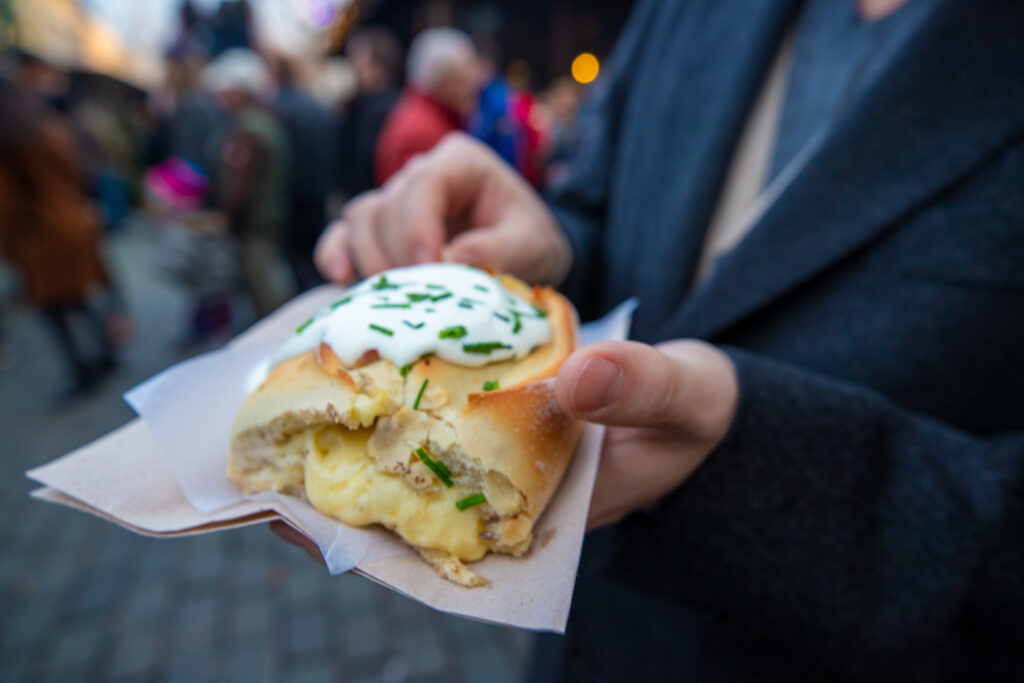 Do you have questions about visiting the Christmas Markets in Cologne? Comment below!