Like many cities in Germany, Cologne residents are passionate about their beer. The local brew is called Kölsch, and it is beloved by the citizens of Cologne. You'll find locals and tourists alike sipping down .2L glasses of Kölsch at one of the many brauhaus pubs around the city. Also known as brewhouses or beer halls, a German brauhaus is a traditional drinking establishment primarily offering locally brewed beer and German food.
With so many amazing beer hall options available in Cologne, visitors often ask: what is the best Cologne Brauhaus?
In this post, we sit down with Alex, one of our Cologne tour guides, to get a local's perspective on where to find the best beer halls in Cologne. Alex leads a number of Art of Touring's guided walking tours, including one of our most popular tours – the Kölsch Beer Tour.
From the outset, it should be said that each Cologne resident has their own firmly held opinions when it comes to Kölsch. This post summarizes Alex's personal opinion on the best brauhauses, but if you speak to a different resident during your visit to Cologne, you're likely to hear other suggestions. People here love to share their thoughts on all things Kölsch, brauhaus and beer!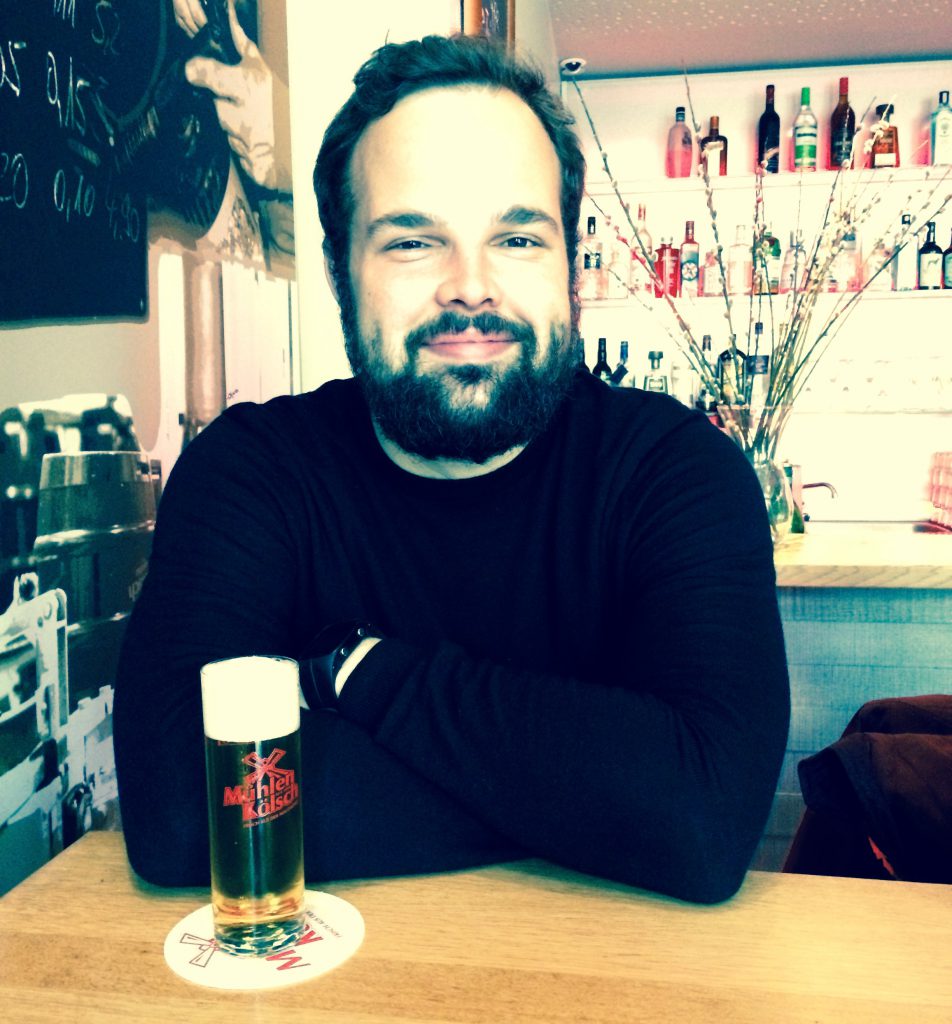 In case you aren't familiar with the beer you'll be drinking at the beer halls in Cologne, Kölsch is a clear, light, and crisp lager that is typically served in small glasses. Perfect for drinking all year round, but especially on warm summer days. In order to be properly called a Kölsch, German regulations stipulate that the brewery must be within 30 miles of the Cologne Cathedral and must brew the beer according to the Reinheitsgebot, or German purity law. Kölsch is the only beer in Germany to have a special protected geographical status.
6 Best Beer Halls and Brauhaus Breweries in Cologne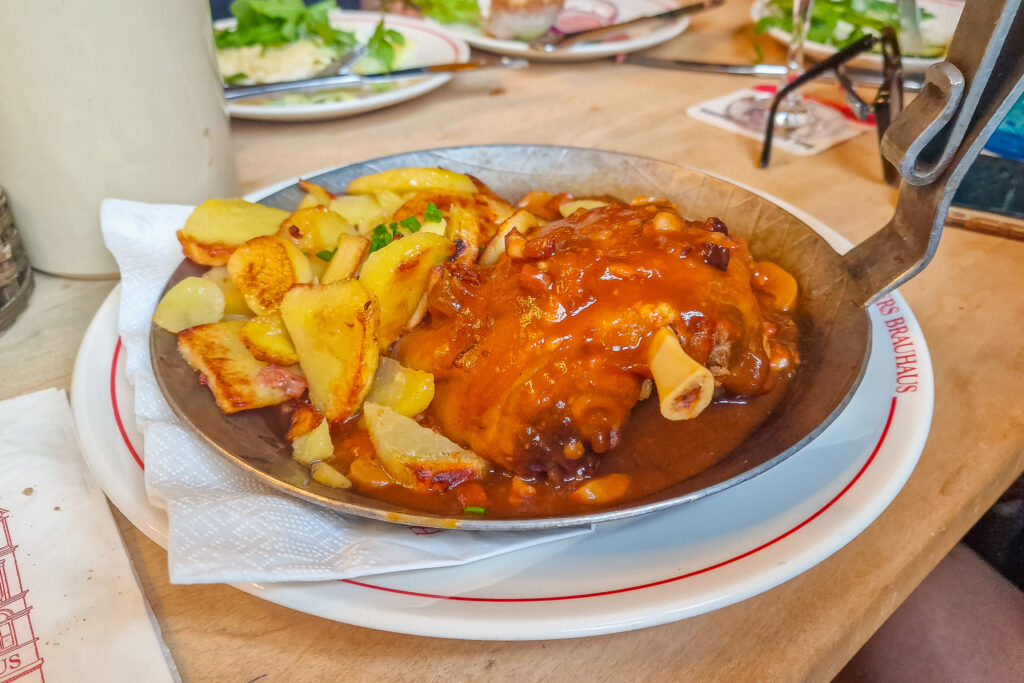 Peters Brauhaus
Cologne's busy Old Town (Altstadt in German) is full of brauhauses, especially from well-known Kölsch brands like Früh and Gaffel. While these macro breweries are certainly fun and lively, they can get crowded with groups of tourists or rowdy families before a football match. For a more local brauhaus experience that feels off-the-beaten path, check out Peter's Brauhaus. Located only a stone's throw away from the Dom Cathedral, Peters achieves the best atmosphere of any brauhaus in central Cologne.
Peter's Brewery is one of the smaller Kölsch producers in Cologne, so it can be more challenging to find their beer in a store or outside the brauhaus. Nonetheless, the Kölsch at Peter's is smooth and crisp, always coming fresh from the tap. According to Alex, Peter's Brauhaus is "Cologne's best classic German Brauhaus". Its popularity with locals is well earned! The drinking experience is backed by a quality food offer and friendlier than normal service. A word of warning: it can get incredibly busy, especially on the weekend, so booking in advance is advised.
Brauerei Päffgen
Many of the Kölsch breweries in Cologne have moved their brewing operations outside of the city center to warehouses or suburban locations. Not at Brauerei Päffgen though! Päffgen still brews in the same original location as when the brewery started in 1883. Founded by the current owner's grandfather and great-grandfather, Päffgen is the oldest house brewery in Cologne.
Along with its interesting history, Päffgen is one of Alex's favorite brands of Kölsch. The wooden beer barrels are taken directly from the brewery's cold storage to the tavern with the help of a small pulley. That means, the beer comes straight from the aging barrel to your table without utilizing any carbonic acid or other additives in the Kölsch. It is one of the purest Kölsch beers you can find!
The tucked away location and lack of expensive marketing campaigns means that Päffgen isn't touristy. This is a local secret! The design of the brauhaus is unique with an open-air courtyard out back which looks into the brewery itself. Visitors might notice customers taking advantage of the brewery's "take away" service. Locals will come into the brewery to collect the beer in barrels, which is the only way Päffgen sells its beer outside of the brauhaus. There are no bottles in sight!
Haus Unklebach
With a massive patio in front of the brauhaus, Haus Unklebach is in the running to be Cologne's best outdoor drinking experience. The beer garden is set back from the street and decorated with bright red and white flowers, Cologne's city colors. Serving Reissdorf, a good solid Kölsch, the atmosphere and ambiance at Haus Unkelbach is always really fun and lively.
It is beloved by the neighborhood residents and you'll always see groups of friends meeting or families gathering. Haus Unklebach also has great food. The menu features German classics prepared with high quality ingredients. Alex recommends the onion soup. It is a heavy dish, laden with cheese and cheese-covered croutons, but he says "it is really tasty and comforting".
Haus Unklebach is also known for having the best Karnival party of any Brauhaus in Cologne. On Karneval days, you can get there at 9.00am and there will already be a massive queue waiting for the doors to open at 11.00am. A stage is built in the beer garden and some of Cologne's best bands are invited to entertain the crowd. "It is a really special experience", says Alex.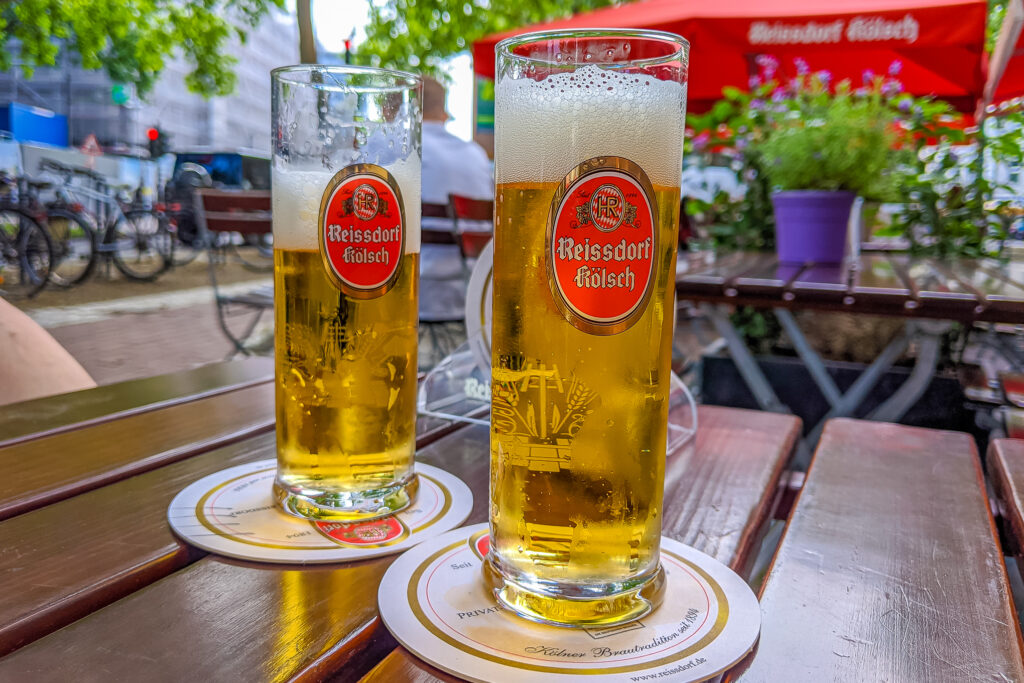 Brauerei zur Malzmühle
Along with Päffgen mentioned above, Malzmühle is one of the only two breweries which continues to produce beer in the old city of Cologne. It is the second oldest brewery in Cologne, with its brauhaus still sitting in the original brewery location just south of Heumarkt Square. The Brauerei zur Malzmühle opened over 160 years ago. It remains a genuine family brewery, managed today by the fifth generation of the Schwartz family.
Although Malzmühle can be a little bit loud with visitors, the quality of the beer makes a stop at this brauhaus well worth it. Alex believes that Brauerei zur Malzmühle is in the running to be the best Kölsch in Cologne! Malzmühle also offers a range of beers alongside their standard Kölsch, including a Malt beer – a sweet beer with 2.5% Alcohol which tastes really good. Along with the beer, there is great "Cologne Tapas" plate which includes classic snack dishes native to Cologne, including Leberwurst (liver sausage), Mettwurst (raw ground pork), delicious Frikadeller (meatballs), and traditional Blutwurst (black pudding).
Haus Töller
Southwest of Cologne's city center near Barbarossaplatz lies Haus Töller. This establishment is a Cologne institution with a very long history. It is now in its 6th generation, and the building itself survived the war – a rarity in Cologne. The Haus Töller Brauhaus sells one of Alex's favored Kölsch brands, Päffgen Kölsch. He says, "the pub itself is also brilliant".
What's more, the waiters (known as Körbes) are really passionate about their beer and the culture which surrounds it. You can feel the Cologne spirit in a place like Haus Töller. Alex's recalls a time when a Körbes offered to show his group around the brauhaus after hours. Once all of the other patrons left, the waiter took the time to describe the architecture and historical artifacts found around the beer hall. This unique experience really brought the history to life!
This Cologne institution is usually closed for one or two months in the summer. Check the website for availability before your visit.
Johann Schäfer
If you're looking for a break from Kölsch beer but still want a brauhaus experience in Cologne, check out Johann Schäfer. This micro brewery in Cologne's Südstadt neighborhood offers a varying selection of beer, including a house brewed Pils and Hell, alongside a selection of Kölsch. Alex loves going to this brauhaus for something different, adding that it is a good "alternative beer experience for people visiting Cologne."
The building in which the brauhaus is located has a long connection to the family of the brewery's founder – Manfred Schäfer. His great grandfather ran a blacksmith shop in the same hall where the brewery is today. If you look closely, you will still find large metal rings embedded in the old masonry wall where the horses were tied while shoes were adhered to their hooves.
The brauhaus has a buzzy atmosphere of young people and locals, found well outside the normal Cologne beer hall circuit. Additionally, the food at Johann Schäfer is absolutely delicious. Their motto is to "have fun eating" which you certainly will when you enjoy their regionally and seasonally inspired cuisine. If you're looking for a more alfresco drinking and eating experience in Cologne, Johann Schäfer has a second location on the Rhine River. It is one of Cologne's best beer gardens!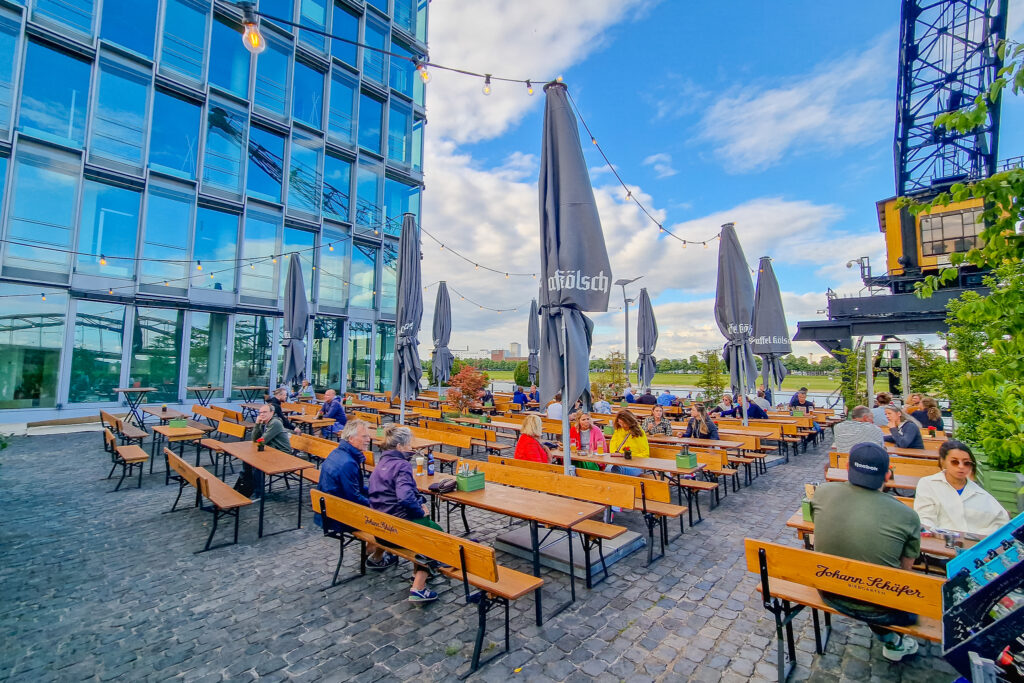 Introducing guests to the Brauhaus culture in Cologne is a big part of what Art of Touring does on our Culinary Tours and Brewery Tours. If you are interested in joining us for an upcoming tour, please reach out via email or inquire on our website today. We would be happy to help you show you some of Cologne's best brauhaus and beer halls.
Did we miss any of your favorite Cologne Brauhaus pubs? Comment below!