Located merely an hour away from Cologne, Bonn was the capital of the Federal Republic of Germany from 1949 to 1990. If you plan on exploring the area around Cologne, Bonn is definitely worth a stop. You can visit the major highlights in one day without exhausting yourself traveling all around. Everything is pretty compact and centrally located. In this blog post, we are highlighting our favorite things to do with 24 hours in Bonn.  
One of the reasons we love taking visitors to Bonn is its quieter, livable and unfussy vibe. As you can see in our Instagram Reel about Bonn, it has nice architecture, friendly people, and a casualness about it that makes it really loveable. Bonn provides a great contrast to the much larger and busier cities in North Rhineland Westphalia, such as Düsseldorf or Cologne. 
Are you interested in setting up a guided tour of Bonn? We can help you organize the perfect visit! With guided tours of Bonn, including a Beethoven-themed tour or a biking tour of Bonn, we can make sure you see all the best and most loveable parts of Bonn. Get in contact with us today for a custom quote, crafted specifically for the needs & wants for your group.
Everything You Should See in 24 Hours in Bonn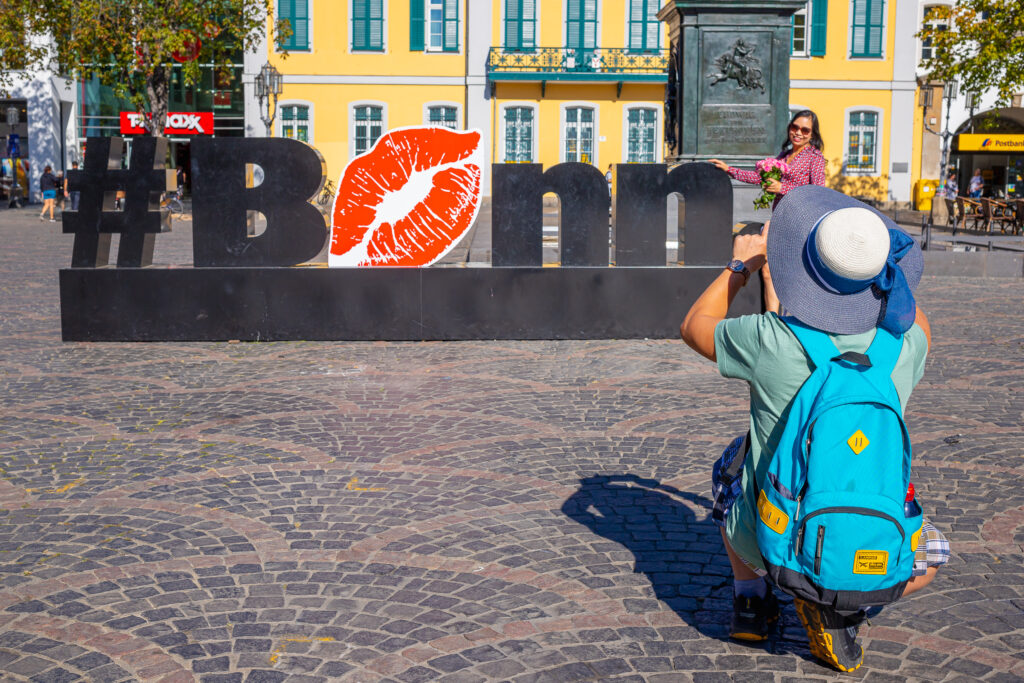 Poppelsdorfer Allee & Palace
Poppelsdorfer Allee is a charming tree lined boulevard leading from Bonn's main train station to Poppelsdorf Palace. Along either side of the boulevard, you'll notice some of Bonn's loveliest homes. This picturesque path is ideal for a stroll or bike ride, and you'll want to keep your camera handy for all the Instagrammable moments.
At the end of the boulevard, Poppelsdorf Palace sits like a beacon, drawing you in. The foundation dates back 1583, but that palace as we see it today was not completed until 1753 by Clemens August. He is also the man responsible for the nearby Augustusburg Palace, a UNESCO World Heritage Site. The palace's baroque style in a quintessential pale yellow color and collonaded facade has become one of Bonn's most recognizable buildings. These days, the palace is owned and operated by the University of Bonn with a number of natural science collections.
Address: Meckenheimer Allee 171
Hours: Open 10:00 – 16:00 Monday – Friday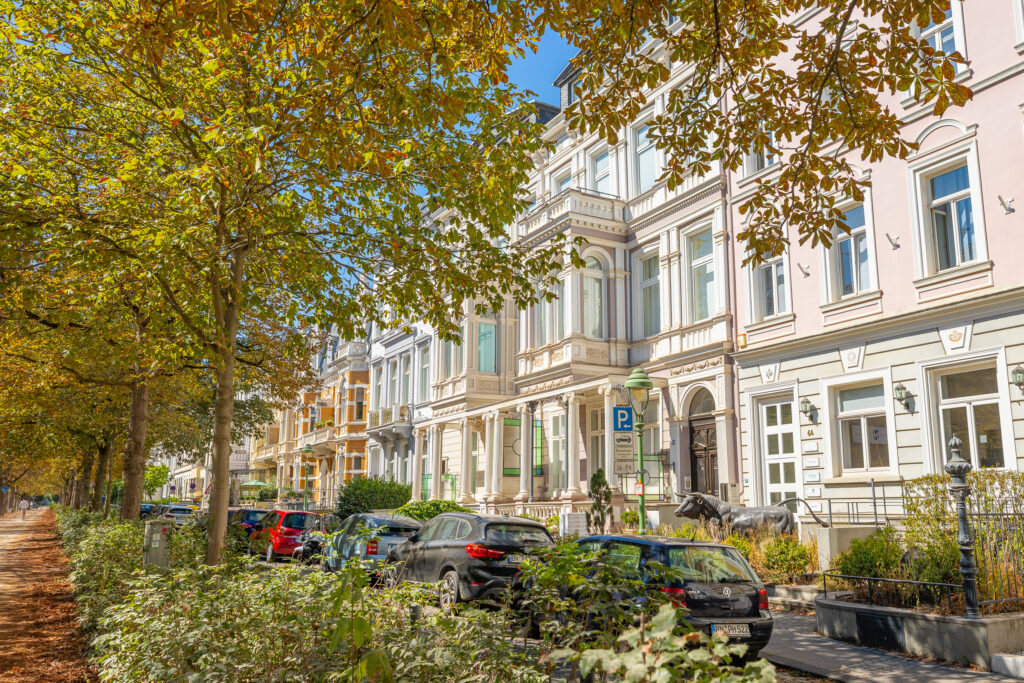 Bonn Botanical Gardens
Directly next to and behind Poppelsdorf Palace lies our favorite place in Bonn – the Bonn Botanical Gardens. Dating back to 1640, these gardens feature over 11,000 types of flora! The garden is designed in a way to highlight plants throughout the year, so regardless of when you visit Bonn, you're likely to find something in bloom. One of the highlights of the botanical gardens is the collection of greenhouses. Each greenhouse features a different type of climate, ranging from tropical to desert. A fan favorite is always the English garden, which has massive lily pads in the central pond. Entry to the gardens is free on weekdays and costs 3 EUR on Sundays and holidays. It is closed on Saturdays.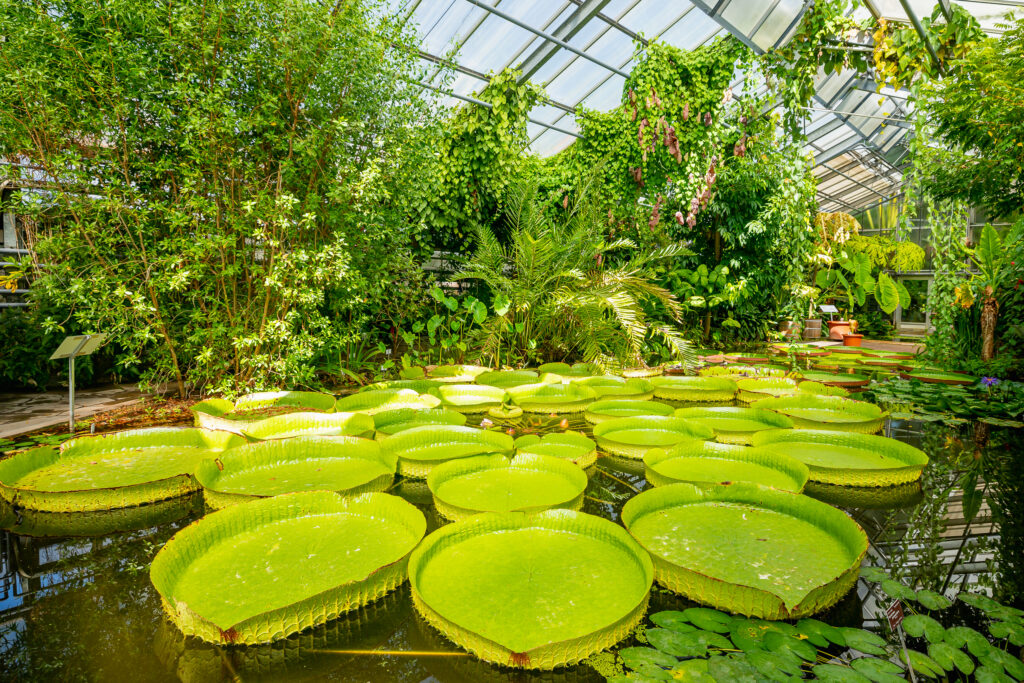 Bonn Farmer's Market
To give you a local's impression of Bonn, make a stop at the farmer's market in Marktplatz. The market is held daily (except for Sundays) from 8:00am until 18:30pm. There is an assortment of stands at the market, including fresh cheeses, produce and plants. You'll notice locals doing their grocery shopping and chatting with the purveyors. This feels like a quintessentially "Bonn" experience. It is the perfect place to buy some local delicatessen for a picnic in the park, or a quick lunch or snack on the square. At the back of the square, don't miss the Old Town Hall, a 1700's Rococo-style town hall with an ornate facade.
Address: Markt 28
Hours: Open 8:00 – 18:30 every day except Sunday
Münsterplatz
Serving as one of the main squares in Bonn, Münsterplatz sits in the shadow of Bonn's biggest Catholic church. The Bonn Münster is nearly 1,000 years old, and you can take a guided tour of the interior to learn about the fascinating religious history. Also in the Münsterplatz is the Beethoven Denkmal statue. This statue is dedicated to Beethoven, one of the city's most iconic historical figures. You can learn more about the history of Beethoven in Bonn on this blog post written for classic music lovers! Regardless, Münsterplatz and the Beethoven Denkmal statue are one of the most photographed attractions in Bonn, making it the perfect Instagram spot!
Address: Münsterpl. 11-4
Hours: 24 hours, it is a public square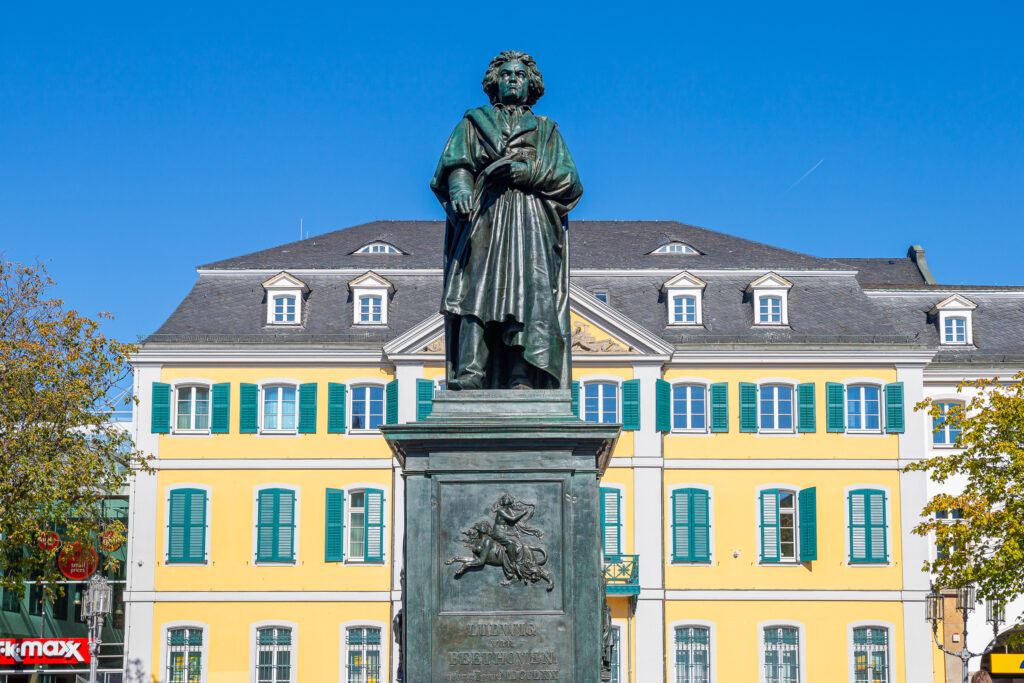 Haribo Store
The famed gummy bear company, Haribo, originates from Bonn. In fact, the name is an acronym for the company's founder Hans Riegel (Ha – Ri) plus the city of its founding Bonn (Bo). It is one of the most beloved brands in Germany, and the average German consumes 3.49 kilograms of gummy candies each year. The iconic yellow Goldbear mascot who wears the red bow tie debuted in 1989, and is now a signature staple of the company's branding.
Needless to say, a stop at Haribo's flagship store near Hofgarten is an essential activity for 24 hours in Bonn. It is a colorful, high-energy, and sugar laden place that will immediately boost your mood. You'll find two floors stocked with gummy treats, ranging from the classic gummy bear to special products you can only find here. In the back of the store, there is a whole section for creating your own unique mixes with scooping bins and weigh stations.
Address: Am Neutor 3
Hours: Open 10:00 – 19:00 every day except Sunday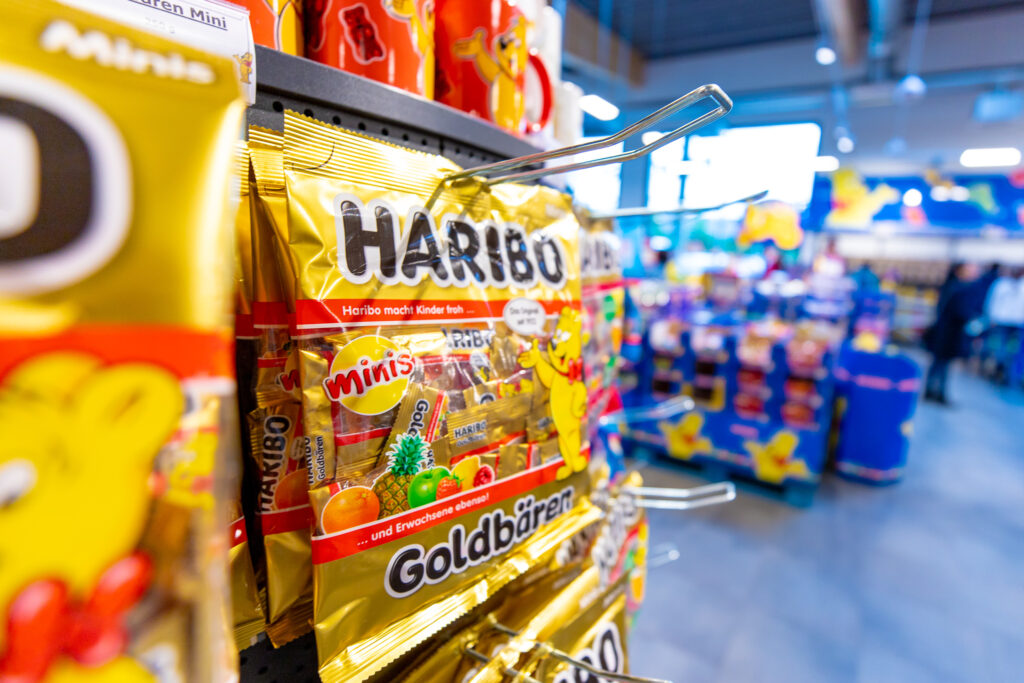 Beethoven House
The Beethoven Haus is a museum and concert hall entirely dedicated to telling the story of Beethoven's life. Though not blessed with a happy childhood, Beethoven spent his early life in this house and it is hard to argue that it didn't shape who he would become. The Beethoven Haus is packed with the world's best collection and artifacts from Germany's most famous composer. Visitors can see portraits, letters, original instruments and manuscripts. They all have a direct connection to Beethoven himself. There are even ear trumpets on display that Beethoven used later in his life when his hearing deteriorated.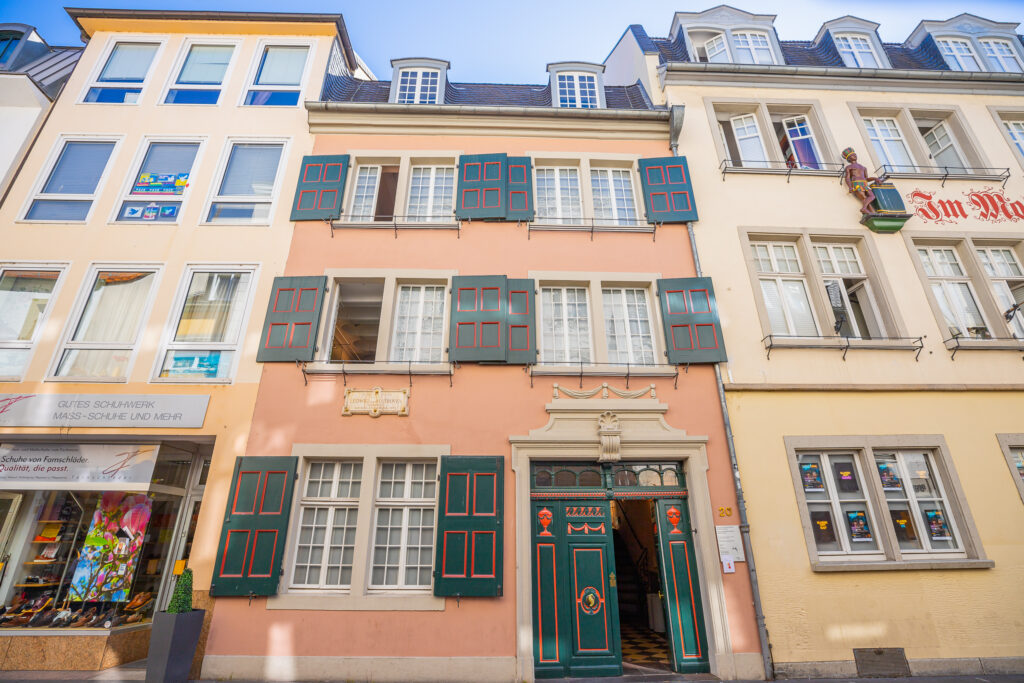 Rheinaue Park & Japanese Gardens
Located south of Bonn along the Rhine River, Rheinaue Park is a great place to bike to because the waterfront path is lovely and well-maintained. We even offer Rheinaue Park as a stop on our Bonn Bike Tour! This 160 hectare park is one of the most locally loved spots, thanks to its wide footpaths and variety of greenspaces. Traditional Japanese gardens were built in this park in 1979 as part of a Federal Horitcultural Show, and have remained ever since. Natural balance and harmony inform the overall composition of the garden, which was designed by Japanese landscape architect Dr. Akira Sato. The most impressive features of the garden are two water cascades, a small lake and a pagoda.
Address: Ludwig-Erhard-Allee 20
Hours: 24 hours, it is a public park
Heerstrasse Cherry Blossoms (Spring only)
If you happen to be in Bonn during the springtime, April specifically, make your way to Heerstrasse on the northside of the city. This street has exploded in popularity, thanks to viral photos and videos on social media during the Cherry blossom bloom. Cherry blossom trees line both sides of the narrow street, so when the flowers are blooming, it creates a tunnel-like optical illusion of pink flowers. It is spectacular! You'll find cherry blossoms around the city, but this street in particular has a lot of them.
Address: Heerstraße 77
Hours: 24 hours, it is a public street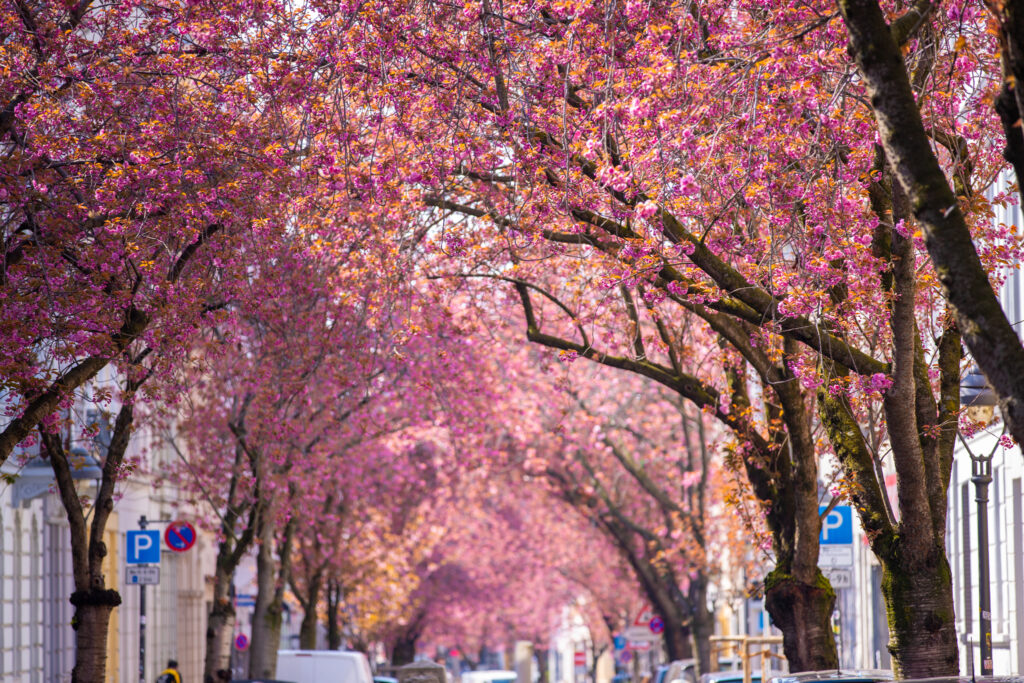 Do you have questions about visiting Bonn? Comment below and we can help!