Sometimes called the Versailles of Germany, Augustusburg Palace in Brühl is Germany's best preserved example of Rococo architecture. The stunning marble grand staircase and intricate gold-leaf details are only the beginning of what you'll experience at Augustusburg. It is one of the most popular tourist attractions near Cologne and Bonn, thanks to its UNESCO World Heritage status.
Augustusburg can easily be visited as a day trip from Cologne or from Bonn. If you are interested in organizing a private tour of Augustusburg for your small group or company, reach out to Art of Touring today. We offer guided tours in multiple languages to help bring this amazing palace to life! 
Finding useful information about the large park and palace can be challenging, which is why we created this comprehensive travel guide for Brühl's most famous place. Are you considering a visit to the stunning Augustusburg Palace? Keep reading this helpful guide to give you all the important facts, figures and information you need to know about planning your visit to Augustusburg Palace.
The Complete Guide to Visiting Augustusburg Palace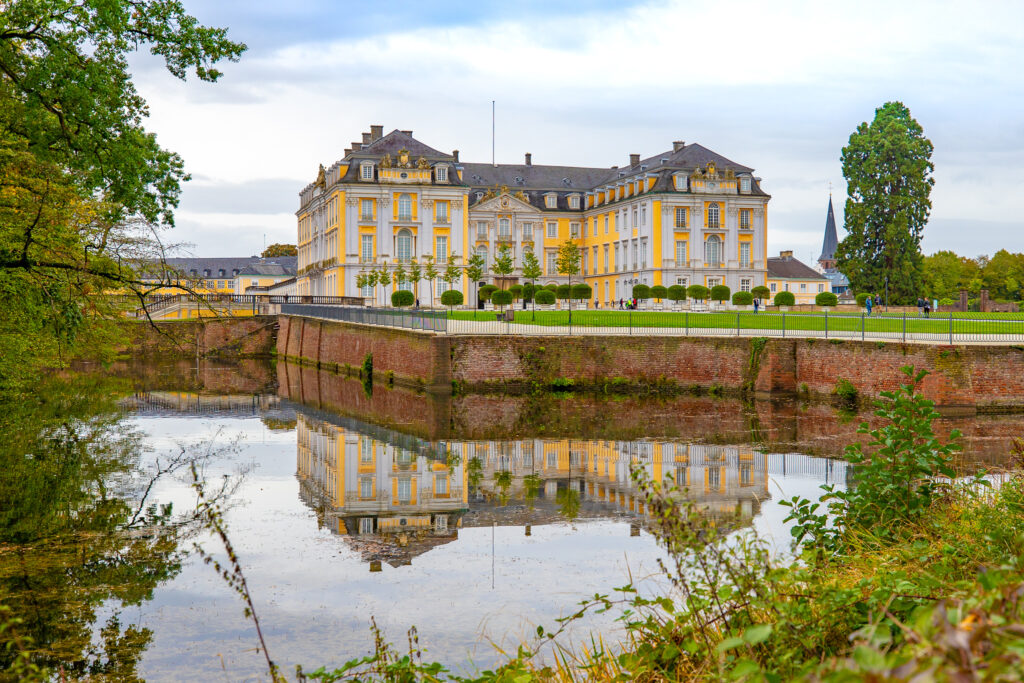 History
Augustusburg Palace was commissioned in 1725 by the wealthy Cologne elector and archbishop Clemens August of the House of Wittelsbach. Electors were members of the electoral college who elected the emperor of the Holy Roman Empire. They wielded a lot of power and privilege in their time, but they were never considered royalty. The House of Wittelsbach is a German dynasty which ruled over territories including Bavaria, the Palatinate, Holland and Zeeland.The family even had three of its members elected emperors and kings of the Holy Roman Empire.
Clemens August was not considered a particularly bright or competent leader, preferring the softer and more luxurious sides of life. He was considered a playboy who loved music, hunting and throwing parties to impress women. With this in mind, the idea of Augustusburg was born! The palace was intended to be Clemens' summer residence, designed to impress subjects and courtiers alike with its grandeur.
The Westphalian architect Johann Conrad Schlaun began construction of the palace on the ruins of a medieval moated castle. To make the palace even more ornate, the Bavarian court architect François de Cuvilliés took over in 1728 with the goal of designing one of the most glorious residences of its time. Unfortunately Clemens August didn't live long enough to see the completion of the main palace, although he did enjoy many parties in Falkenlust, the smaller hunting lodge on the same grounds.
Since 1949, Augustusburg Palace has been used primarily for representative purposes. Federal Presidents and the Federal Government will occasionally host events here, or make public addresses from the beautiful marble-clad grand staircase. Distinguished guests who've visited Augustusburg Palace include Queen Elizabeth, Nelson Mandela, and Mikal Gorbachev. It was honored as a UNESCO world heritage site in 1984, because of its well-preserved Rococo style. Today, the state of North Rhine-Westphalia maintains these palaces for the public as museums through taxpayer funding and ticket sales.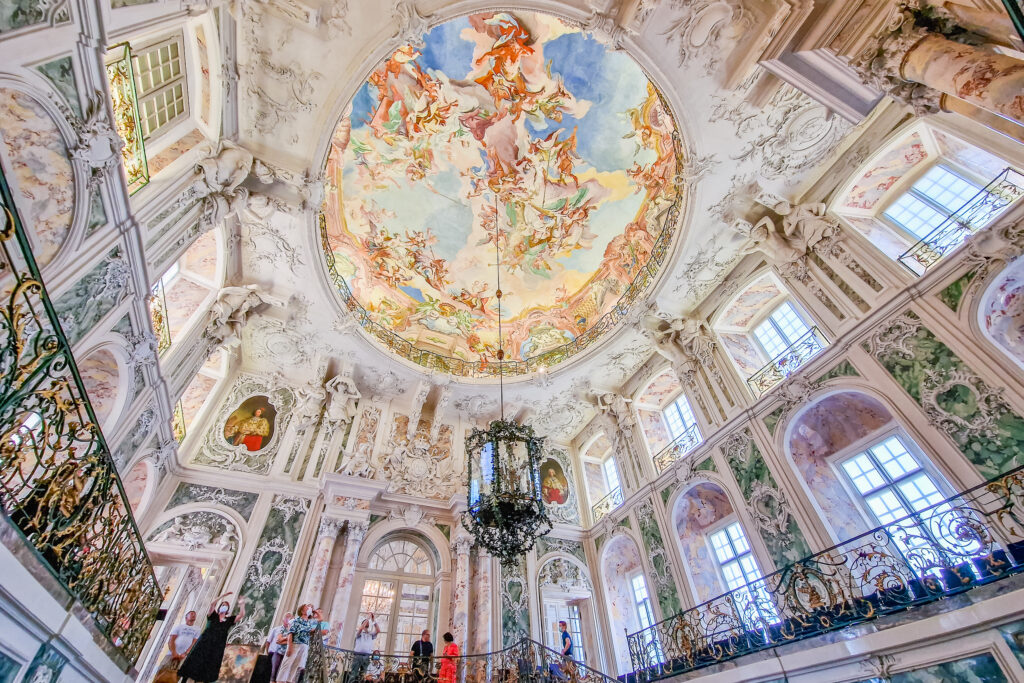 Attractions
Augustusburg Palace
The main attraction in Brühl is of course Augustusburg Palace. Designed with a similar facade to the Palace of Versailles, Augustusburg is a sight to behold! With a creamy yellow exterior and checkerboard stone walkway leading up to it, you will be immediately drawn in by this impressive structure.
On the guided tour, guests can see several important rooms including the summer bedroom, courtiers room, and Clemens August's office. Each room is seemingly more ornate than the last with intricate gold leaf details and oil paintings adorning the walls and ceilings. The embossed leather wallpaper is also noteworthy.
For most guests, the marble grand stairway and ballroom are the most impressive rooms in the palace. You'll want to snap photos from every angle as you marvel at this structure. The faux domed ceiling painted in a classical scene immediately draws your eye up as you ascend the stairs. A massive glass chandelier in the center of the pink and yellow dining room will leave you in awe.
Falkenlust Hunting Lodge
As he waited for construction of the palace to complete, Clemens August requested an additional structure to be built on the premises – Falkenlust Hunting Lodge. Dedicated entirely to falconing, his absolute favorite pastime, this residence is much smaller but no less ornate! The location was actually selected because of its advantageous location on the breeding flight path of herons. These birds were Clemens August's favorite prey in falconry.
The best way to reach Falkenlust is a 30 minute walk through the alluring garden and forest park between Augustusburg Palace and the hunting lodge. Gravel paths are well marked and appropriate for families and people of all fitness levels. You'll feel secluded and removed from the world on this picturesque walk through fields, forest and French gardens.
Falkenlust features a number of rooms, all decorated in the same Rococo style you find in the main palace. Clemens August would invite smaller groups of prominent people, typically after a day of hunting, to the lodge for intimate parties and gatherings. The famed Casanova was rumored to have partied here!
Today, visitors can meander through Falkenlust at their leisure with an accompanying audio guide to bring the lodge to life. Rooms of note include the mirror cabinet, used to display an impressive collection of porcelain, as well as the tile-clad main stairwell. With more than 10,000 hand painted tiles, the blue and white stairwell feels lavish and contemporary.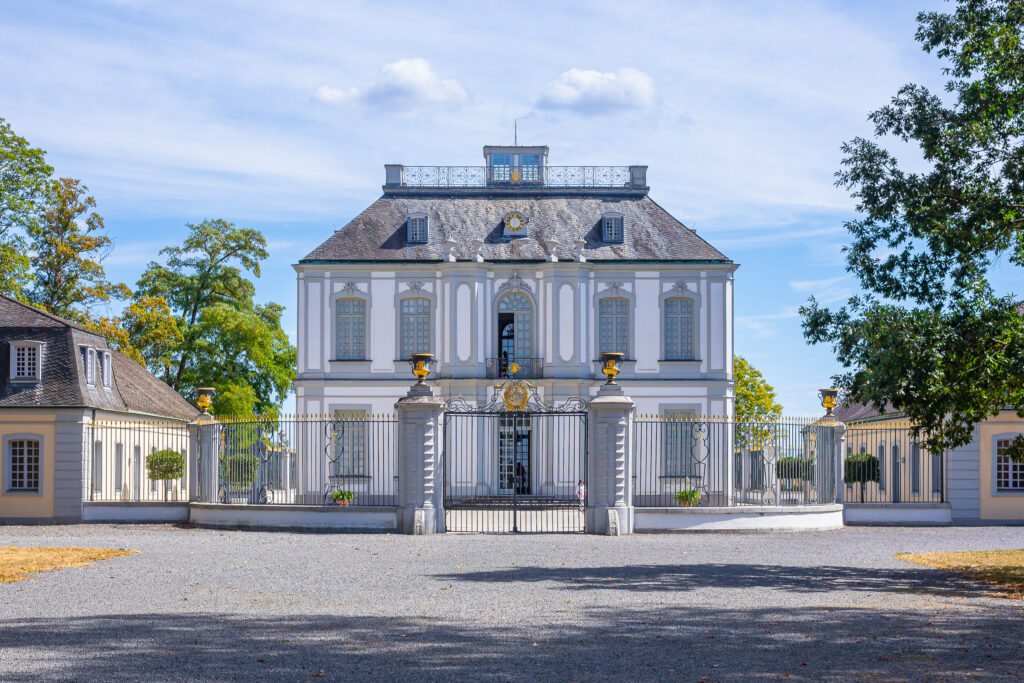 French Gardens & Park
Designed in a classic French style, the formal gardens at Augustusburg Palace in Brühl are truly incredible. It is best seen in the early spring or late summer when flowers are in bloom, but it is a lovely place to wander throughout the year. The gardens are an outstanding example of internationally renowned garden art, which is why they are also included in the UNESCO World Heritage dedication.
The Baroque gardens were created by Dominique Girard, who was likely a student of André Le Nôtre, the master gardener in Versailles. You will notice this inspiration immediately with the round parterre layout and ornamental flower beds flanking the gravel pathways. Shaped boxwood trees cover walkways on either side of the main flowerbeds. Several fountains intersperse the filigree-like garden, leading up to a mirror pool and final fountain towards the end of the formal gardens.
At the behest of Prussian king Frederick William IV, the forested area behind the French gardens was redesigned in 1842. Garden designer Peter Joseph Lenné transformed the park following fashionable English landscaping designs, which include features such as woodland pathways, wild meadows and flexuous walks along babbling waterways. Today, it represents one of the foremost examples of an 18th century European formal garden.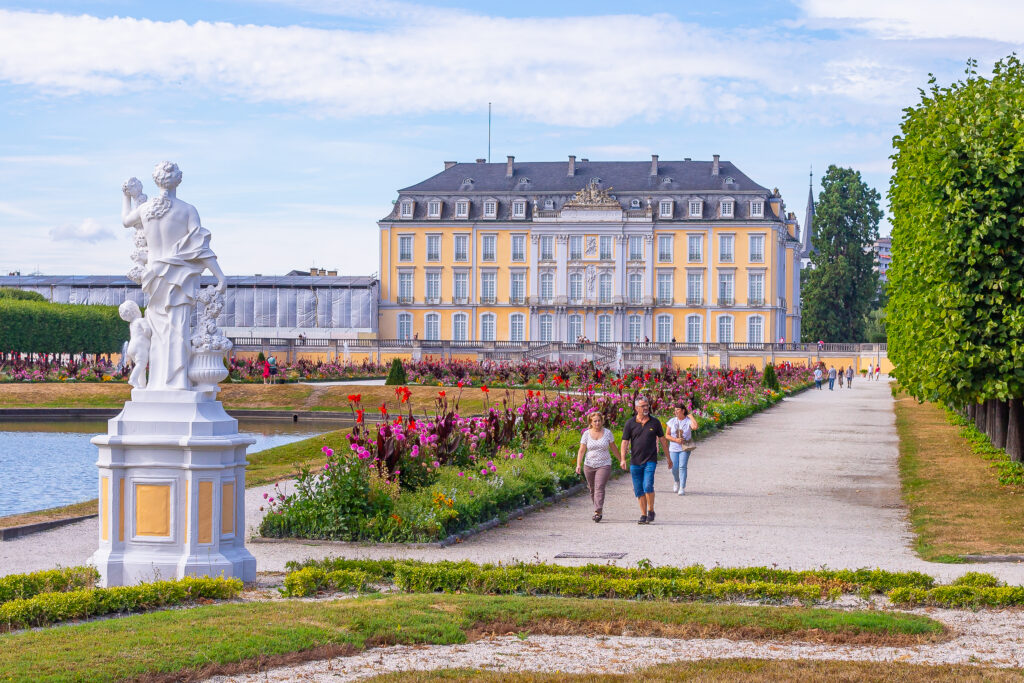 Practical Details
Getting to Brühl
The main Brühl train station is located directly next to the palace gardens, so taking a regional train from Cologne or Bonn is the easiest way to reach Augustusburg Palace. You can take the RB48, RB26, or the RE5 from Cologne's Hauptbahnhof. Additionally, the number 18 street car goes to Brühl Mitte station, which is located a 10 minutes walk away from the palace.
Augustusburg Palace is only located 18km from Cologne's city center and 21 km from Bonn's city center, so biking is another great way to access Brühl. You can bike along the Rhine before turning west towards Brühl through parks and fields. It is quite a picturesque bike ride, perfect for all skills and fitness levels.
If you are taking a car, there is parking available at both Augustusburg and Falkenlust palaces. They are paid parking lots.
Opening Hours
As of August 2022, the following table shows the opening times and days of Augustusburg palace.
| | |
| --- | --- |
| Day | Opening Times |
| Monday | closed |
| Tuesday to Friday | 9 am – 4 pm (last admission) |
| Saturday | Sunday | Public Holidays | 10 am – 5 pm (last admission) |
| December, January, February | closed |
Tickets
You can purchase tickets to visit Augustusburg, Falkenlust or both palaces. The ticket office is directly inside the main visitor entrance. There is typically no need to purchase the tickets in advance, unless you are interested in a private tour or small group experience.
Below are the combined admission prices for Augustusburg and Falkenlust. These prices are as of August 2022.
| | |
| --- | --- |
| Admission prices | Combi Ticket |
| Adult | 15 €, reduced 11.50 € |
| Groups from 15 persons | 11.50 € p. pers. |
| Family A (2 adults and their school age children) | 32 € |
| Family B (1 adult and his/her school age children) | 17 € |
| Students (up to 30 years) | 7.50 € |
| School classes (per person) | 5 € |
Guided Tours & Audio Guides
You can only visit the interior of the palace on a guided tour. Art of Touring offers private guided tours of Augustusburg Palace, which can be organized through us directly. Reach out today if your group wants to organize a visit to the palace in Brühl. 
For individuals, guided tours run approximately every 20 minutes. German language tours are predominant, but you will occasionally see English guided tours. There are audio guides available for non-German speakers, and the audio guide is included in your ticket price.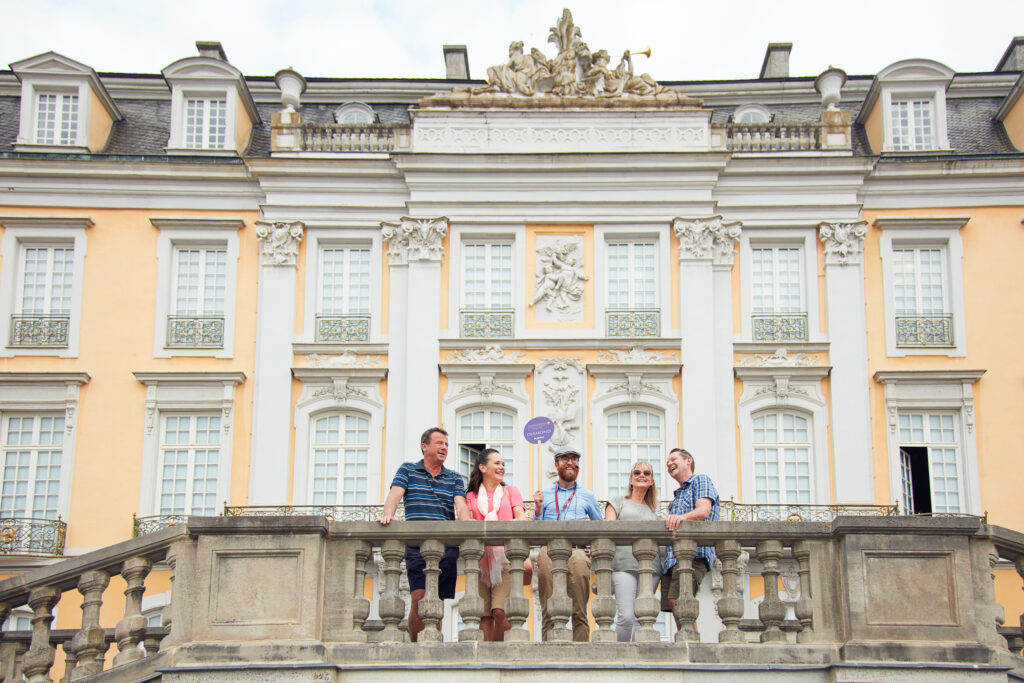 Do you have questions about visiting Augustusburg or Falkenlust palace in Brühl? Have you already visited and want to share your thoughts? Leave a comment below and let us know!