Cologne can trace its roots all the way back to Roman Times, nearly 2,000 years ago. Cologne really is old, giving whole new meaning to Old Town. One of its most appealing things to do as a first time visitor to Cologne is exploring the walkable Altstadt or Old Town of Cologne. Wandering through the narrow streets and charming squares will bring you face-to-face with Cologne's long history. Among the Altstadt's many tourist attractions are Roman ruins, gothic churches, and interesting museums that feature diverse subjects such as food, fragrance and art.
Prefer some help planning your walk through Cologne? Consider our Old Town Walking Tour. We bring guests directly to some of Cologne's most famous places, bringing to life the history through engaging storytelling and dynamic guides. If a self-guided approach is more your style, keep reading to find our list of the top attractions and fun things to do in the Old Town of Cologne.
10 Terrific Things to See in Cologne's City Center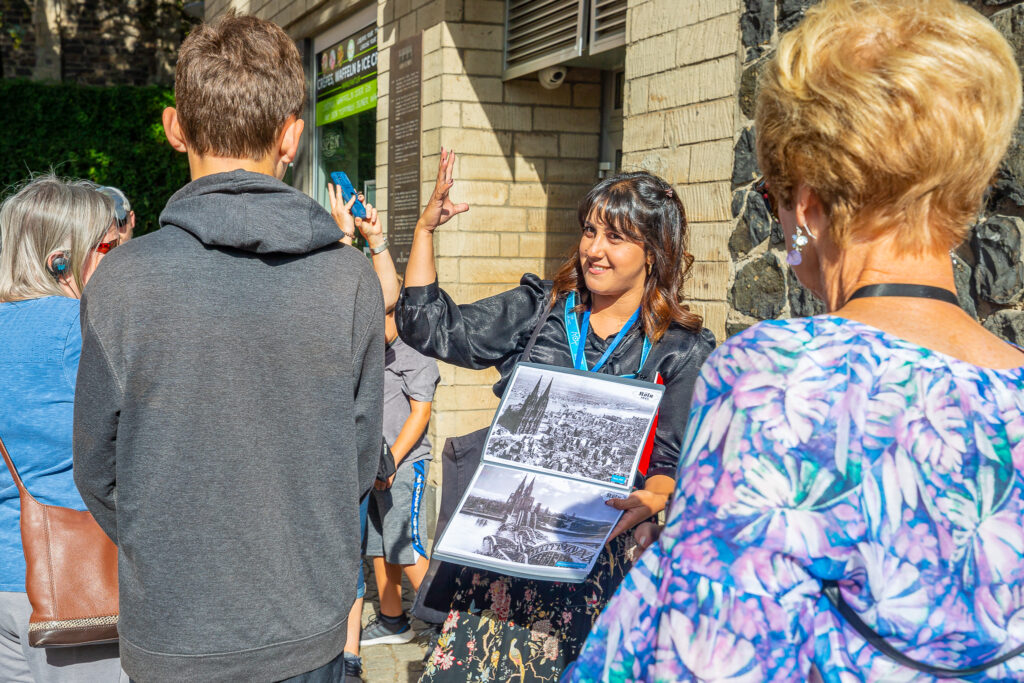 Fischmarkt
Steps away from the Rhine Ricer is one of Cologne's most historic –and Instagrammable– market squares. Dating back over 1,000 years, Fischmarkt was the traditional location for Cologne's farmers market, selling predominantly fish and other fresh goods coming down the Rhine River. The candy colored houses were the fisherman's homes, and today they remain as residential dwellings. Around the square, there are a number of restaurants if you want to sit and enjoy the surroundings. 
Sitting directly behind the square, the Great St. Martin's church offers a dramatic backdrop for the Fischmarkt. This is one of Cologne's 12 Romanesque style churches, sitting atop Roman ruins. The church was rebuilt after WWII, and it is one of the city's most iconic landmarks. It is open for public visitation, and you can pay extra to see the Roman ruins underneath.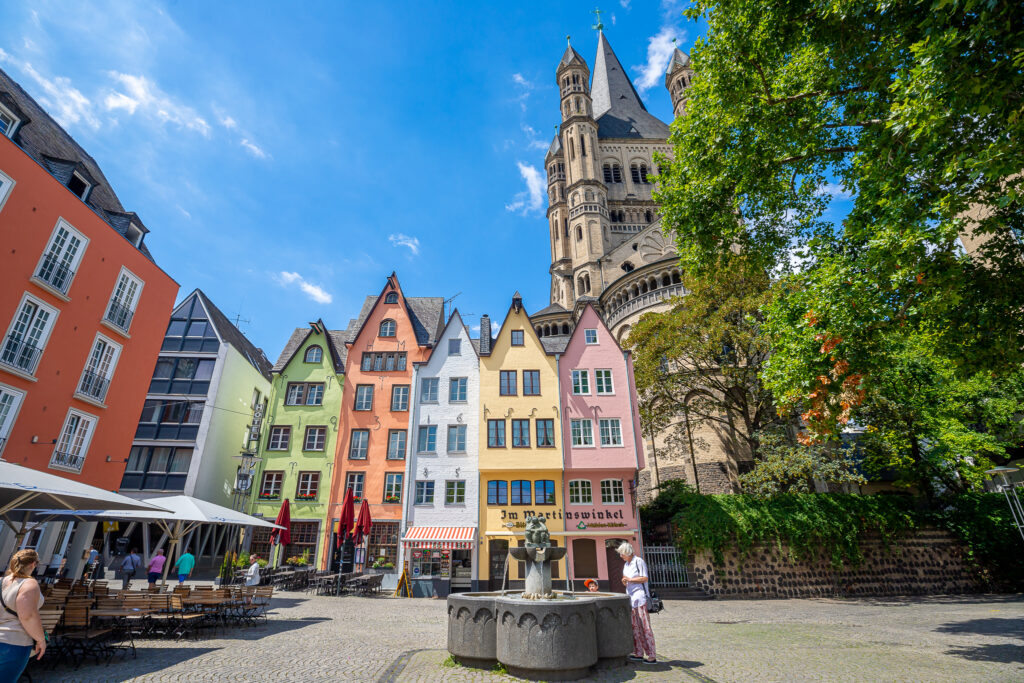 Hohenzollern Bridge
Named after one of Germany's most influential royal families, the Hohenzollern Bridge spans 168 meters (550 feet) across the Rhine River. It is one of the most important rail and pedestrian bridges in all of western Europe, because it is a major connection point between important cities. For example, Cologne is located just 3 hours by train from Paris and Amsterdam, and only 2 hours from Brussels. The bridge was destroyed during the second World War because of its strategic position.
Nowadays, the bridge is iconic because of the thousands of colorful love locks that adorn its railings. Blissfully happy couples will come up to the bridge, and attach a love lock, often engraved with their names or anniversary dates. Then, the couple will throw the key into the Rhine River as a sign of their eternal love. Because the bridge was built to withstand the weight of thousands of trains crossing each day, the weight of the locks does not pose any structural concerns, and they are never cut off or removed by the city.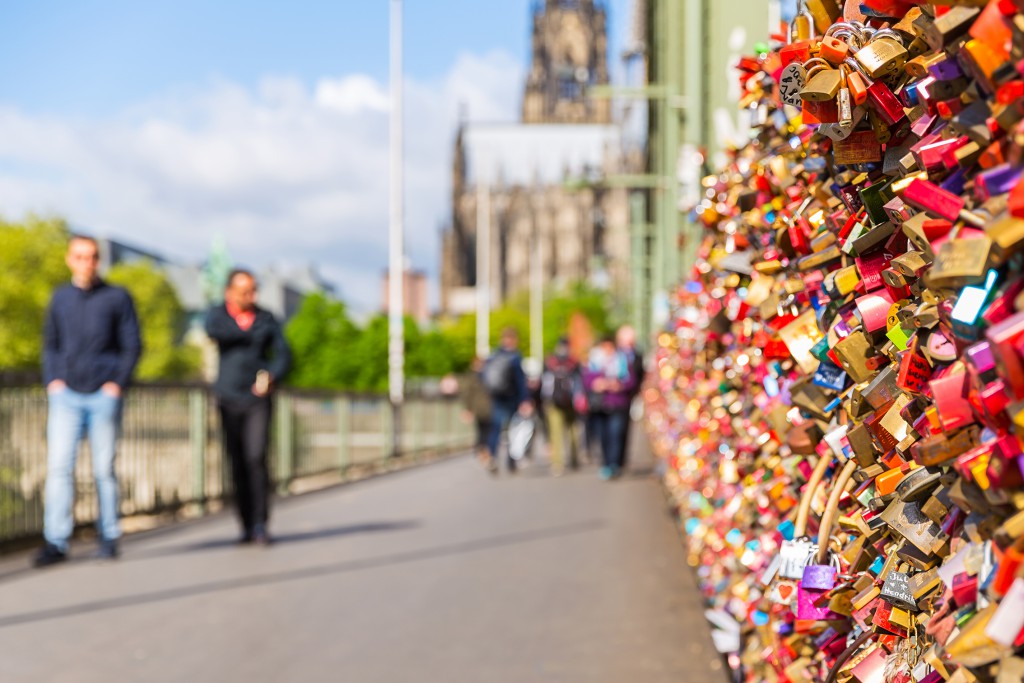 Cologne Cathedral (Dom)
The most visited historical attraction in Germany is the Cologne Cathedral. Receiving nearly 20,000 visitors per day, the Dom as it is called in German is a must-visit attraction in Cologne. If there is one place not to miss in Cologne's Altstadt, it is the cathedral. Cologne is called the Domstadt after all!
The cathedral stands 517 feet or 157 meters tall. This massive structure can be seen from nearly every corner of the city. The grandeur of the cathedral stems from the important relic that is housed inside – the shrine of the 3 wise men. It is said to hold the bones of the Three Magi, which were moved to Cologne in the 1100s. Construction of the Dom began shortly after the relic arrived in 1248 and lasted until 1880 – that is over 600 years. You can find out why the construction took so long on our guided tour of the cathedral.
It is free to enter the cathedral, and it is open every day. You can still enter during mass times, although you will only be allowed in the back. A variety of stained glass windows can be found along the nave and back of the cathedral, including several from the 16th century and 19th century. The most iconic window was created by famed German artist Gerard Richter, called the symphony of light. Richter chose 72 colors which were randomly generated in identical 9,6 cm × 9.6 cm squares, creating a patchwork modern design emblematic of the artist's style. 
In 1996, Cologne cathedral was recognized as a UNESCO world heritage site. For adventurous travelers, you can climb up the 535 stairs of the south tower spiral staircase. It is quite a workout, but you will be rewarded with a stunning view of Cologne.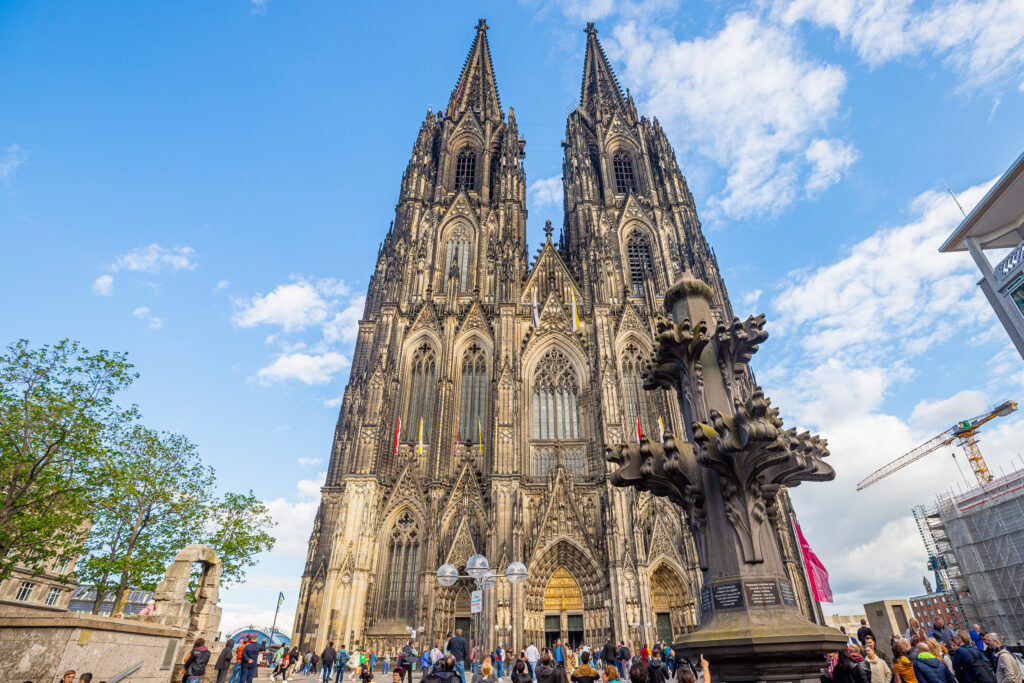 Ludwig Museum
The preeminent art museum in Cologne is the Ludwig Museum. Located just steps away from Cologne's famous cathedral, this is an easy place to add on to any visit of Cologne's Altstadt. Named after Peter Ludwig, a millionaire chocolate magnate from the early 20th century, the museum was gifted 350 modern artworks from his private collection of more than 50,000 artworks.
The museum is devoted to modern art, particularly from the Pop Art, Abstract, and Surrealism eras of the 1960s-1990s. With an astonishing collection of works from artists like Andy Warhol and Roy Lichtenstein, the Ludwig is a must-visit in Cologne for any art lover. There is also a sizable Picasso wing, along with seasonal and rotating exhibitions throughout the year.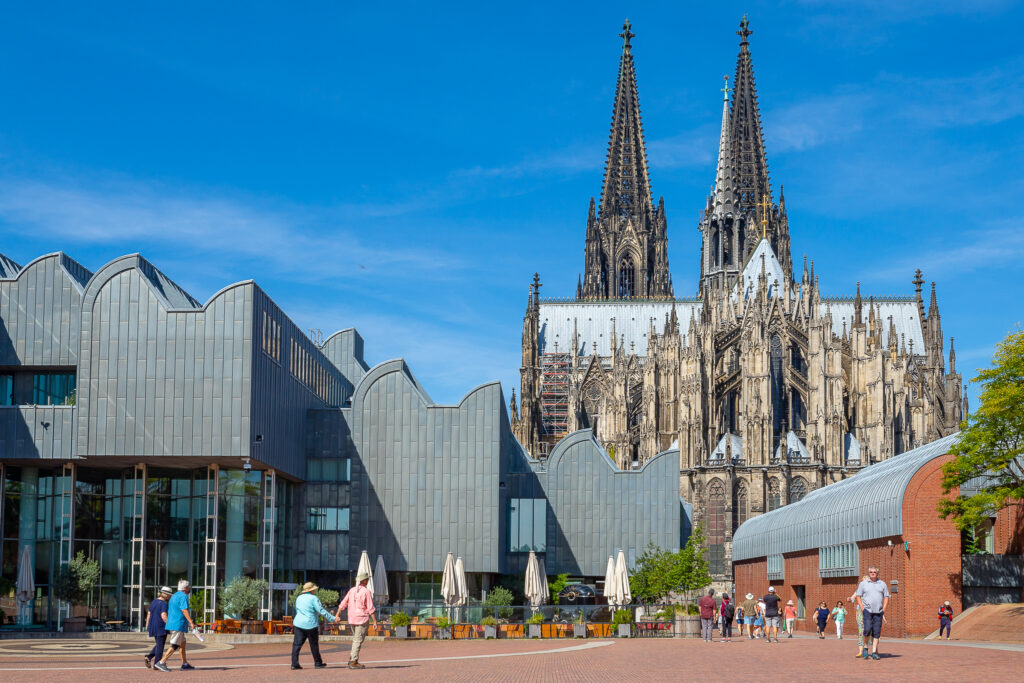 Alter Markt & Rathaus
A visit to Altermarkt, or old market in German, is an essential place to visit in Cologne's old town. Here you will find Germany's oldest city hall, built in a gothic style in 1393.  The building is adorned with 126 figures from Cologne's 2,000 year history. People featured include mayors, popes, archbishops, royals, and important political figures such as Konrad Adenauer and Karl Marx. This building is seen as a symbol of power for the people, because it was built by citizens, guilds & craftsmen, instead of the Catholic church. 
There are a number of restaurants and Kölsch brauhauses around the market, and it has a lively atmosphere, especially on the weekend. This is nice place to sit and enjoy lunch or a Kölsch beer in between all of your Old Town explorations. Altermarkt is also home to Cologne's most charming Christmas market – Heinzels Wintermärchen. Themed after a winter fairy tale, each stand in the adorable market is painted with these small gnome characters. There is even an ice skating rink!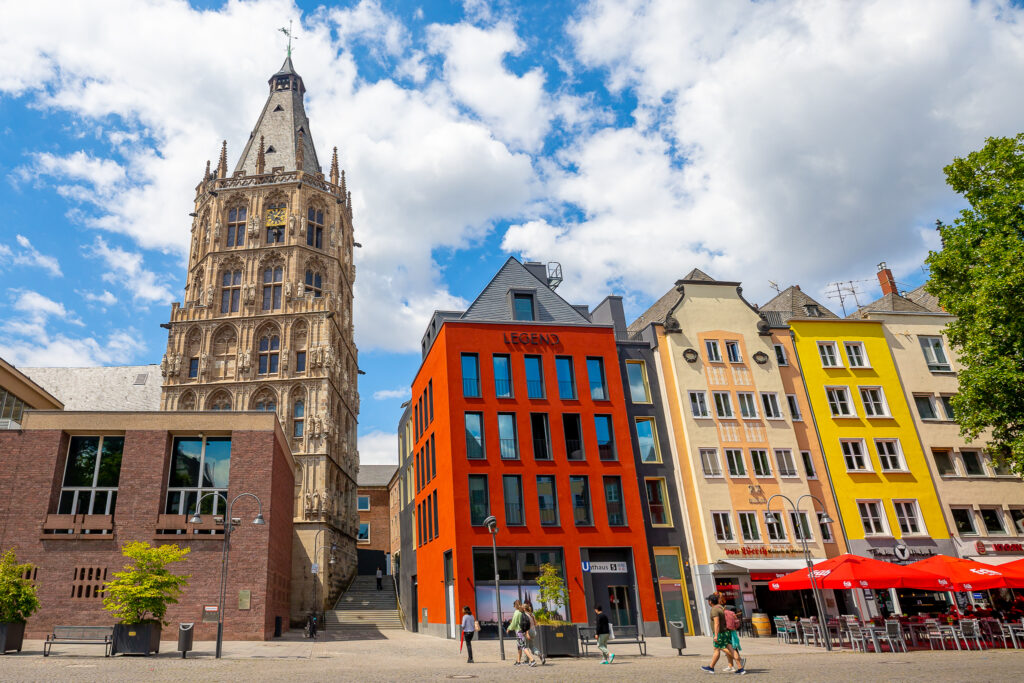 Tünnes & Schäl Statues
Sitting in an often overlooked square in front of the Great St. Martin's church are two bronze statues – Tünnes and Schäl. The statues were built by German sculptor Wolfgang Reuter in 1934 in dedication to the city of Cologne. These two characters are cult figures in Cologne city lore, and you'll see their likeness represented all over town. They are popular characters from puppet theater, always performed in the local Kölsch language dialect.
Tünnes is a harmless, comely, simple-minded farmer with a bulbous nose and a friendly personality, who often represents the good nature and spirit of Cologne people. Contrastingly, Schäl is a well-dressed bourgeois man with sly disposition, crossed eyes and shrewd mind, who depicts the wealthy and powerful influence that Cologne has had throughout history. Tünnes and Schäl have come to symbolize, in a tongue-and-cheek sort of way, two sides of the same coin. It is said that if you rub the nose of Tünnes, you will have lifelong friendships and will return to Cologne. If you rub the hands of Schäl, you will have wealth, prosperity and luck.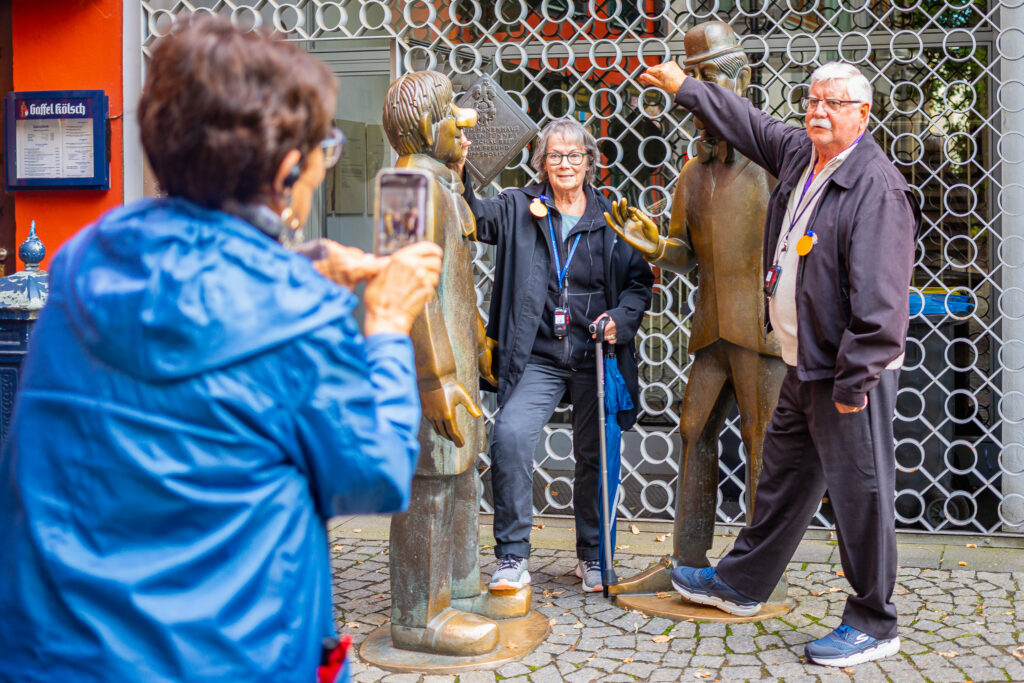 Farinas Fragrance Shop
To learn about the history of eau de cologne production in Cologne, visit the Farina Fragrance Shop & Museum. Started by Johann Farina in 1709, Farinas is the world's oldest known perfume or eau de cologne manufacturer. The shop is still located inside the original house where the Farina family began their perfume production. It is said that the fragrance smells like Italy on a rainy spring day with notes of citrus, bergamot, and flowers. The Farina's family still operates the business today, and the recipe for the fragrance is a tightly held secret. Famous clients of Farina include Napoleon Bonaparte, Queen Victoria, and Princess Diana. This is an authentic and beloved souvenir to bring home with you from Cologne.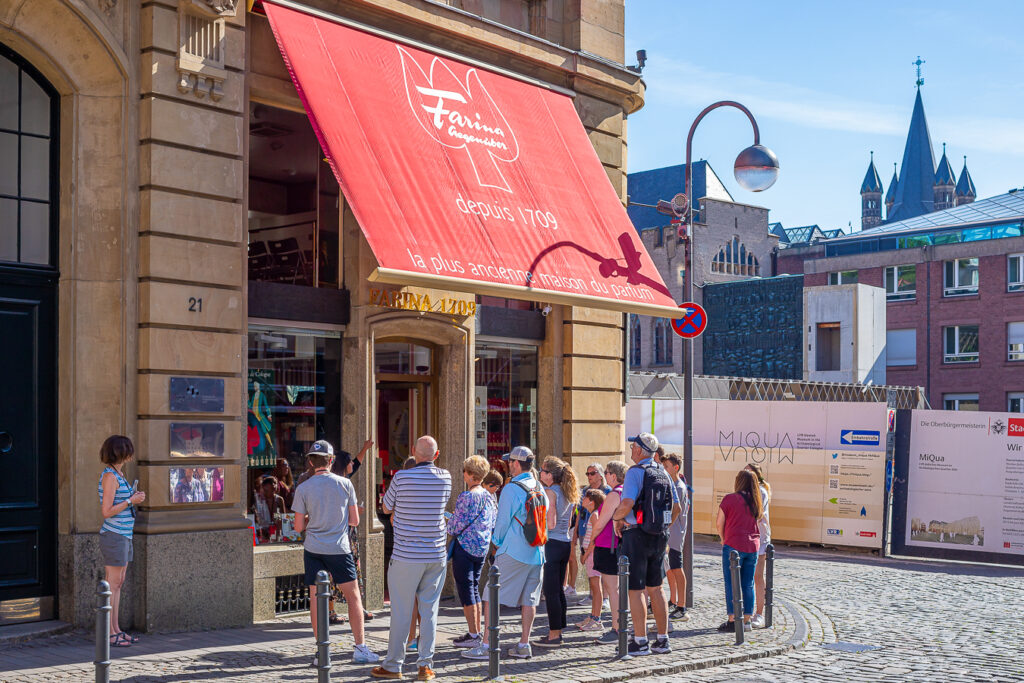 Shopping on Höhestraße and Schildergasse
Walk along the original Roman streets of Cologne, which today are the two most important commercial streets in the city. You can walk several miles along Höhestraße and Schildergassestraße, stopping in many boutiques and big box stores along the way. You'll find well known brands such as Zara, H&M, Kaufhof, and Mango. You can shop til you drop! On the weekend, this area is very busy.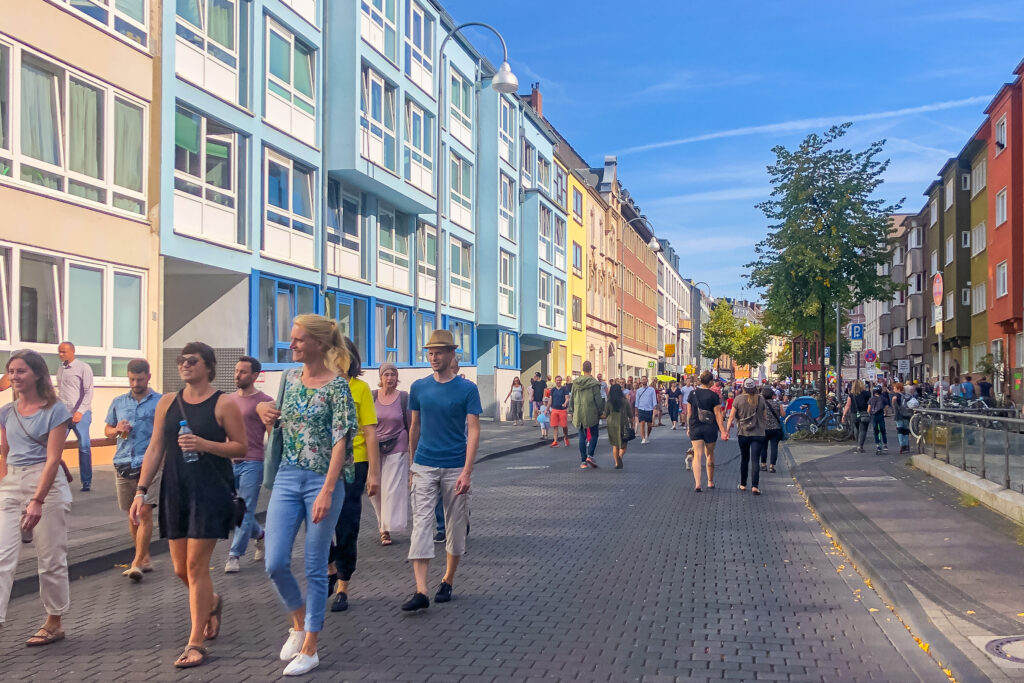 Kölsch Beer Bar
Like many cities in Germany, Cologne residents are passionate about their beer. The local brew is called Kölsch, a clear, light, and crisp lager, perfect for drinking all year round. It is typically served in small .2L glasses called stange, which ensure the beer never gets warm (since you'll be sipping it down so fast).
In order to be properly called a Kölsch, German regulations stipulate that the brewery must be within 30 miles of the Cologne Cathedral and must brew the beer according to the Reinheitsgebot, or German purity law. Kölsch is the only beer in Germany to have a special protected geographical status, similar to champagne in France or parmesan cheese in Italy. 
Kölsch is beloved by the citizens of Cologne. You'll find locals and tourists alike sipping down glasses of Kölsch at one of the many brauhaus pubs around the city. Most of the major Kölsch brands have a tasting room in the Altstadt, so visiting one of these brauhauses is an essential thing to do while traveling in Cologne. We summarize our favorite spots on a separate blog post about the best brauhauses and beer halls in Cologne.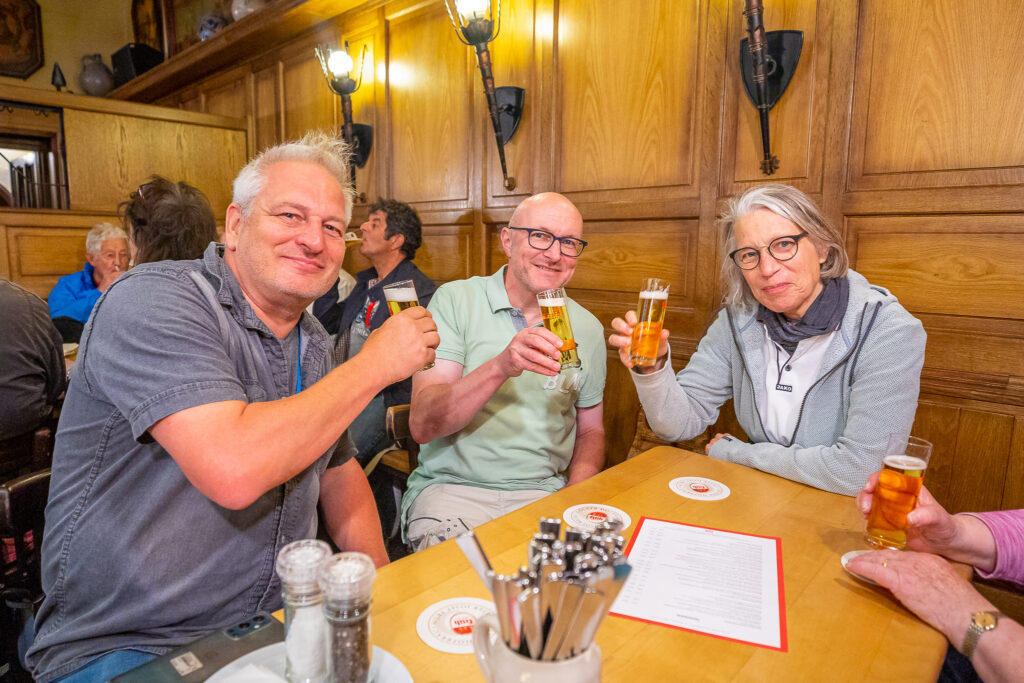 Chocolate Museum
Conveniently located along the Rhine River, the Lindt Chocolate Museum is THE museum to visit in Cologne's Altstadt. In fact, it receives more than half a million visitors per year, making it one of the most visited museums in the state of North Rhineland Westphalia. Go behind the scenes of the Chocolate Museum on our Instagram Reels, which will show you all the cool things you can do inside.
The interactive exhibits lead visitors through thousands of years of cocoa history, including artifacts and images from the Aztec period to modern day. You will learn the entire process of chocolate production from bean to bar. The visit culminates on the factory production floor, where you can see chocolate bars coming out of a conveyor belt and sample pieces for yourself. A perennial favorite of visitors is the chocolate fountain. A museum employee will dish you up a sample of Lindt's incredible chocolate fresh from the fountain.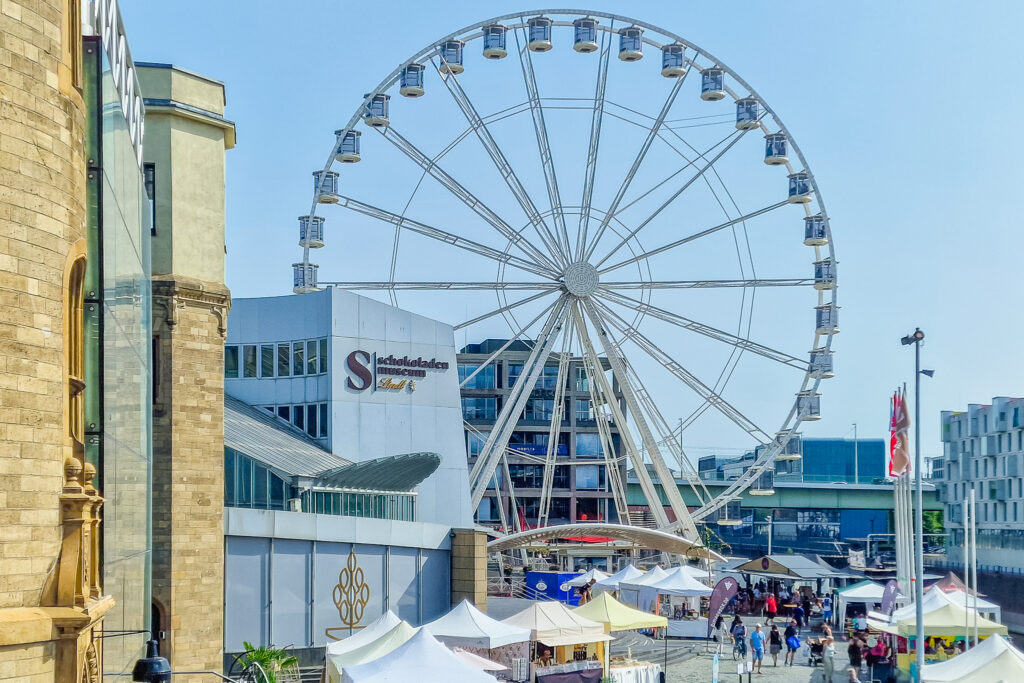 Do you need help planning your trip to Cologne? We are local experts and can you organize an unforgettable experience. Contact us today for a custom itinerary.