Called Dom in German, we offer guided tours of Cologne's most famous attraction — the Cologne Cathedral. You will step inside this building's centuries' long history as our knowledgable guides bring to life the architecture, art and faith of the Dom. 
Construction of the Dom began in 1248, but it took over 600 years to complete. Find out why on our guided tour! Admire the gothic style design and detailed towers before heading inside to see the impressive interior and the important relics. In 1996, Cologne cathedral was recognized as world heritage site.


Offered throughout the year, 7 days a week

Flexible starting point around city center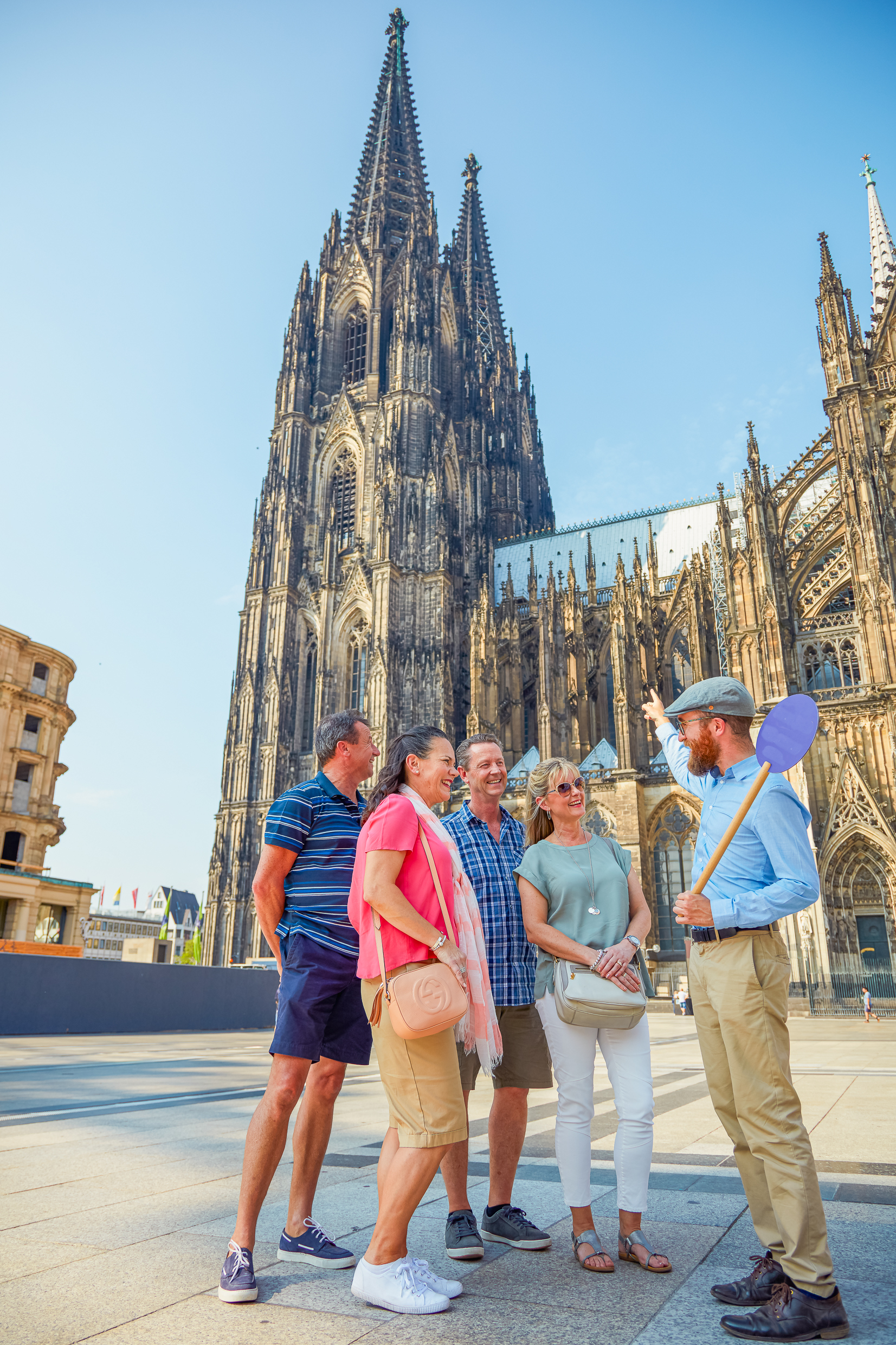 HIGHLIGHTS FROM THIS TOUR
When you visit the interior of the cathedral, there are a number of fascinating attractions to see. A few things to take special notice of:
Mosaic Floors: You will be walking across artwork! The intricacy of these large mosaics depict church stories
Three Kings Shrine: Transferred to Cologne in the 12th century, the relics of the three magi or three kings are housed in the Dom.
Stained Glass Windows: Many survived WWII, telling biblical stories and depicting religious scenes. See the most famous window by German artist Gerhard Richter.
Details About Cologne Cathedral Tour
Duration
Depending on the arrival and timing of the client, this tour can be adjusted in 15 minute increments. It is most often offered in a 30 minute format, but it can be shortened or extended to meet your individual requests.
30 – 60 minutes
Adjustable to client needs
Languages
Art of Touring has guides who speak many different languages. Most commonly, we offer English, German or Spanish tours, but other languages can be made available upon request.
Multiple
Language preference based on client request
Starting Location
This tour can start from many different locations, depending on the needs of the client. Most of the time, it will begin at a cruise dock along the Rhine River or at the Gereonstrasse bus station. Location can be easily adjusted to accommodate client needs.
Flexible
Typically Rhine banks or Gereonstrasse
Optional Add-Ons
This tour can be combined with one of our other tours, such as the Old Town Tour or Jewish Tour. You can also add-on optional items. Perhaps your group is interested climbing the 517 foot tall Dom towers or visiting the heart of the cathedral's preservation work at the Dom Bauhütte. There are many ways to dive deeper in the Cologne Cathedral's incredible history and modern life!
Flexible
Featured highlights and optional add-ons
Are you ready to book this
Cologne Cathedral Tour?