Situated in the heart of North Rhineland Westphalia, Cologne is an excellent German destination in its own right. It is also a great jumping off point for exploring the surrounding areas. There are so many wonderful nearby cities and attractions to experience from Cologne! With help from our knowledgable community of tour guides and local experts, we've put together a list of the very best day trips from Cologne for you to discover.
Insider Tip for Day Trips from Cologne: Much of our region is accessible by public transport, particularly the train. If you are traveling as a group, it may work out cheaper to use a VRS 24StundenTicket for local/regional trains or SchönerTagTicket North Rhine-Westphalia for Intercity (IC) or Intercity Express (ICE) trains.
These are the 5 Best Day Trips from Cologne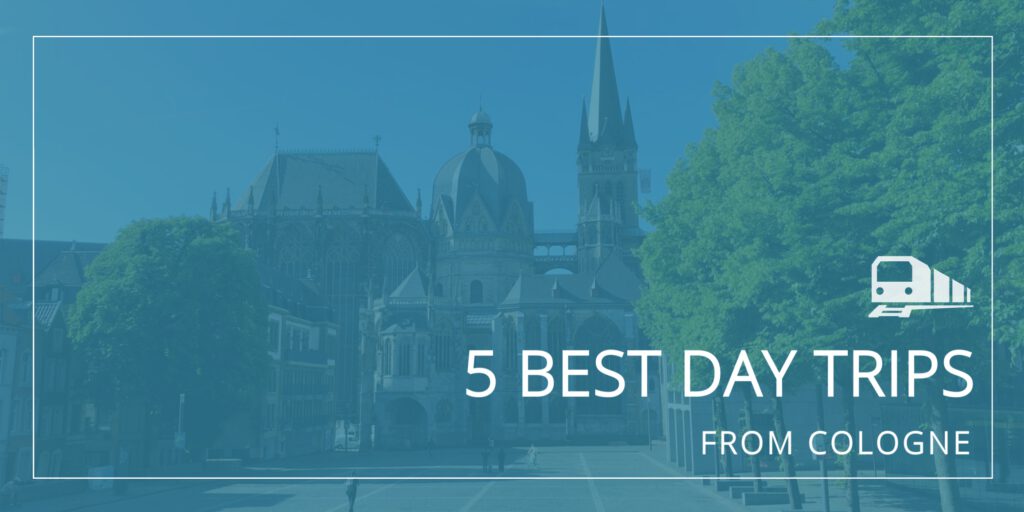 Düsseldorf
No list of the best day trips from Cologne would be complete without a mention of NRW's regional state capital, Düsseldorf. Often considered a rival to Cologne, you will hear locals joking that Düsseldorf is the forbidden city and it should not be mentioned. Don't let this playful rivalry put you off – Düsseldorf is a great day trip destination from Cologne!
Düsseldorf is a stylish and sophisticated city with much to offer in the way of culture. There are world renowned museums such as the Kunstsammlung NRW (K20 and K21). You'll also find some of the most high-end shopping in all of Germany along "Königsallee". This immaculate shopping street offers a luxurious selection of retail stores, such as Louis Vuitton, Hermes, Rolex and more.
The riverbank and old city of Düsseldorf is larger than Cologne, because it did not suffer quite as much destruction during WWII. This is a great place to wander around and enjoy the Rhine River. Highly recommended is a taste of the local brew, Altbier, which is much different than Cologne's Kölsch beer. A great place to sample altbier is "the longest bar in the world", a collection of 250 bars which stretch through the old town.
How to Get to Düsseldorf from Cologne
Because these two cities are relatively large and people will commute between the two for work, there is an abundance of transit options between Cologne and Düsseldorf. Express trains (labeled as IC or ICE) run once per hour, while regional trains leave multiple times per hour from Cologne's main station. The journey will take approximately 20 – 35 minutes.
Things You Shouldn't Miss in Düsseldorf
Marvel at the avant-garde architectural district in the Medienhafen with buildings by Frank Gehry and other award-winning architects
Sample some of the best local produce and regional food specialities at Carlsplatz Market.
Augustusburg Palace in Brühl
Augustusburg is one of the most famous sites in the Cologne Region. It was once the palace of Prince Bishop Elector Clemens August of Bavaria. Today, it is one of the best examples of German Rococo architecture to be found anywhere, which is why it has UNESCO World Heritage Status.
The palace is open every day except Monday, and it can only be seen on a guided tour. Find tickets & hours on the website here. Inside, visitors get to see incredibly ornate royal apartments together with furniture from the same period. Outside are some of the best French baroque formal gardens to be found in Germany. Follow our guide Marie to get an insider's view of the palace on our Instagram highlight!
If that isn't enough, you can take a wander through the nearby woods to reach another baroque jewel: the Falkenlust hunting lodge. This was the site of Clemens August's lavish balls. He would also use the lodge to indulge in his most treasured past-time: hunting with falcons. Hunting scenes are depicted on hundreds of beautifully presented ceramic tiles.
How to Get to Brühl from Cologne
Brühl station is located right next to the palace gardens and can be reached from Cologne main station in just 15 minutes. It is only located 18km from Cologne's city center, so biking is another great way to access Brühl.
Things You Shouldn't Miss in Brühl
A tour inside to see the incredible marble staircase at Augustusburg
Marveling at the intricate detail of the hand-painted tiles inside Falkenlust.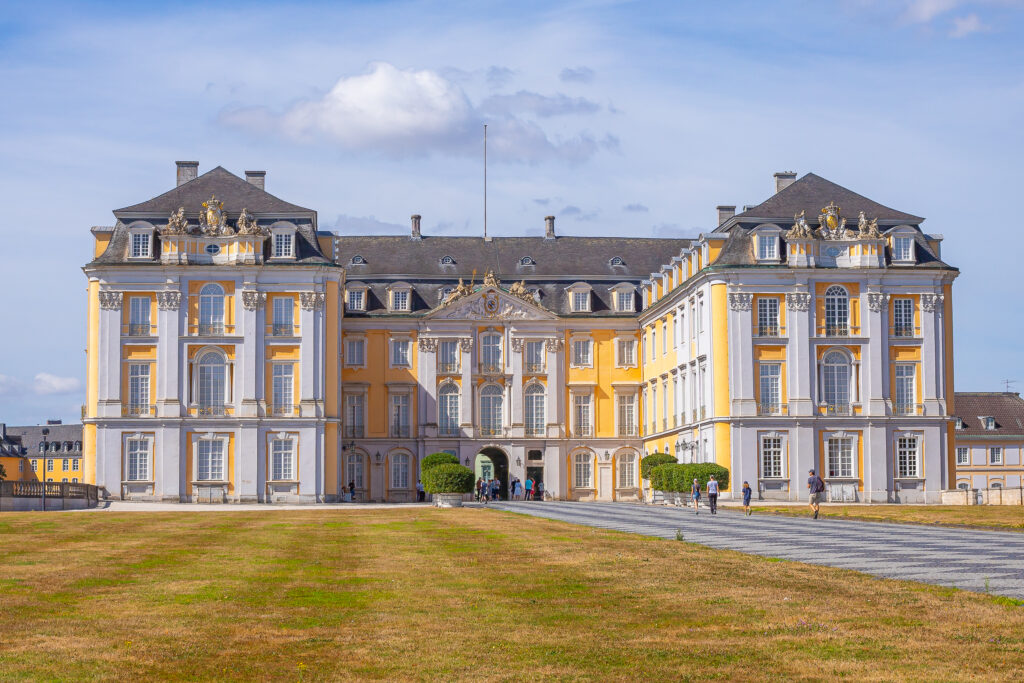 Aachen
Home to Germany's very first UNESCO World Heritage site, Aachen is the jewel of the western edge of Germany. The city boasts everything you need for a perfect day trip from Cologne!
Dating back thousands of years, Aachen is best known for the residence of Charlemagne (Charles the Great). He was the powerful King of the Franks during the Middle Ages, ruling a territory covering most of Western Europe. During his last 20 years, he spent most of his time in Aachen which he transformed into an imperial metropolis. You'll find many artifacts, placards, and even a museum dedicated to him.
Perhaps the most famous attraction in Aachen is the Carolingian Aachen cathedral. With a much different appearance than the cathedral in Cologne, make sure to go inside the Aachen cathedral. You won't want to stop taking pictures of the impressive colorful dome! Tours of the cathedral run through the day and are essential in order to scratch the surface of the beautiful building.
Around the cathedral you will find a plethora of intimate cafes, market places, bookshops, and delicious bakeries. The local specialty is "PRINTEN"—small, thin, delicious, chocolate-covered cakes.
How to Get to Aachen from Cologne
From Cologne main station, there are frequent regional trains which take approximately 50-60 minutes. For a faster option, the more expensive express service trains last about 30 minutes. You'll also find many international trains, such as those from France or Belgium, also have stops in Aachen. 
Things You Shouldn't Miss in Aachen
Soaking in one of the city's ancient thermal baths. The Carolus day spa is an especially good one.
Sip on a hot mulled wine at Aachen's picturesque Christmas market
Siebengebirge & Drachenfels
A short train ride south from Cologne brings you to the picturesque wine village of Königswinter. From here you can reach Germany's first ever nature reserve, the Siebengebirge Naturpark. This is a beloved area for locals to go hiking and mountain biking, thanks to the stunning hilltop vistas and dense forests.
The most famous of all the sights around Königswinter is Drachenfels, which translates as "Dragon Cliff". Making your way up the hill by train or on foot, you will find Drachenburg Castle. The Bonn stockbroker Stephan von Sarter had the magnificent castle built at the end of the 19th century, and it makes a lovely venue for events and exhibitions of all kinds.
At the top of the Dragon Cliff hill, you will be greeted by spectacular views of the Rhine River valley and ruins of a much older fortress perched precariously on the hill's summit. There's also a modern cafe here, offering welcome refreshment.
How to Get to Königswinter from Cologne
The train ride from Cologne's central station takes about 40 minutes by regional rail to Königswinter. Once in the town, you can either a hike or ride the funicular "rack rail" up to the top of the hill
Things You Shouldn't Miss in Königswinter
An ascent and descent with the rack railway is a must of any trainspotter!
If you have a car, it is worth stopping at the Petersberg Hotel for more stunning views on your way back to Cologne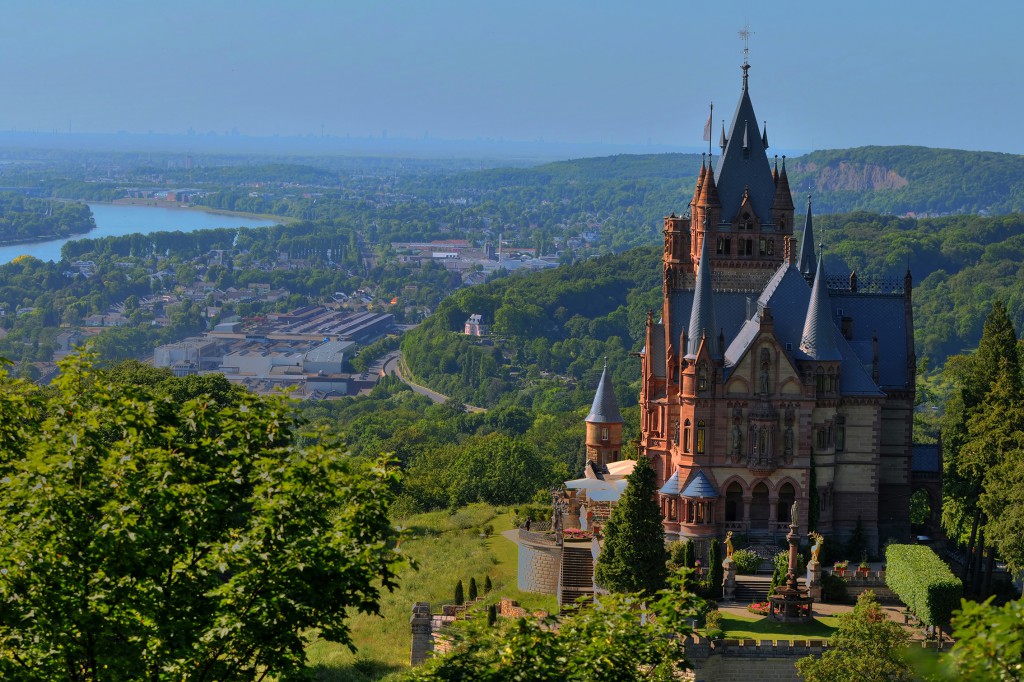 Bonn
Bonn is a small but perfectly formed city of 320,000 residents which packs in much more than you would expect in a city of this size. It used to be the capital of western Germany during the partition period, and it is an ideal city to visit on a day trip from Cologne.
In the city center, you will find a Poppelsdorf Palace, an 18th Century palace that is now part of the University of Bonn. The city hall is also a beautiful addition to the city, providing a stunning backdrop for the daily farmer's market which offers delicious local produce. Go behind the scenes of Bonn on Instagram with one of our favorite guides Marie.
Bonn's most famous historic citizen is none other than Ludwig van Beethoven. The storied composer was born in Bonn in the 1700s. His former house is now a museum dedicated to telling the story of Beethoven's life with a special emphasis on the early years when he resided in Bonn. You'll see images of him all over the city, and we've written a separate blog post all about how to see and celebrate Beethoven in Bonn.
How to Get to Bonn from Cologne
Many trains, both regional and express, leave Cologne Central Station each hour, taking 20-30 minutes to reach Bonn Central Station. You can even take the streetcar number 16 to Bonn.
Things You Shouldn't Miss in Bonn
If you are lucky enough to time your visit for spring, make sure you visit the Altstadt (old town). Near Heerstraße and Breite Straße you can see the city's incredible display of cherry blossom
Visit the Haribo's factory store to sample sweet candies and buy gifts for all your favorite friend with a sweet tooth
Do you have questions about visiting any of these day trip destinations? Have you already visited and want to share your thoughts? Leave a comment below and let us know!