Sunny warm weather isn't something that Cologne is particularly known for, so when the sun is shining, the people of Cologne flock outdoors. In the summertime, Cologne residents swap seats at their favorite Kölsch brauhauses for a wooden bench in one of the city's beer gardens. From patios along the Rhine to tucked away neighborhood spots, there are a number of excellent beer garden options scattered throughout the city. We polled our expert tour guides and local staff to curate this list of Cologne's best beer gardens.
These are the 9 Best Beer Gardens in Cologne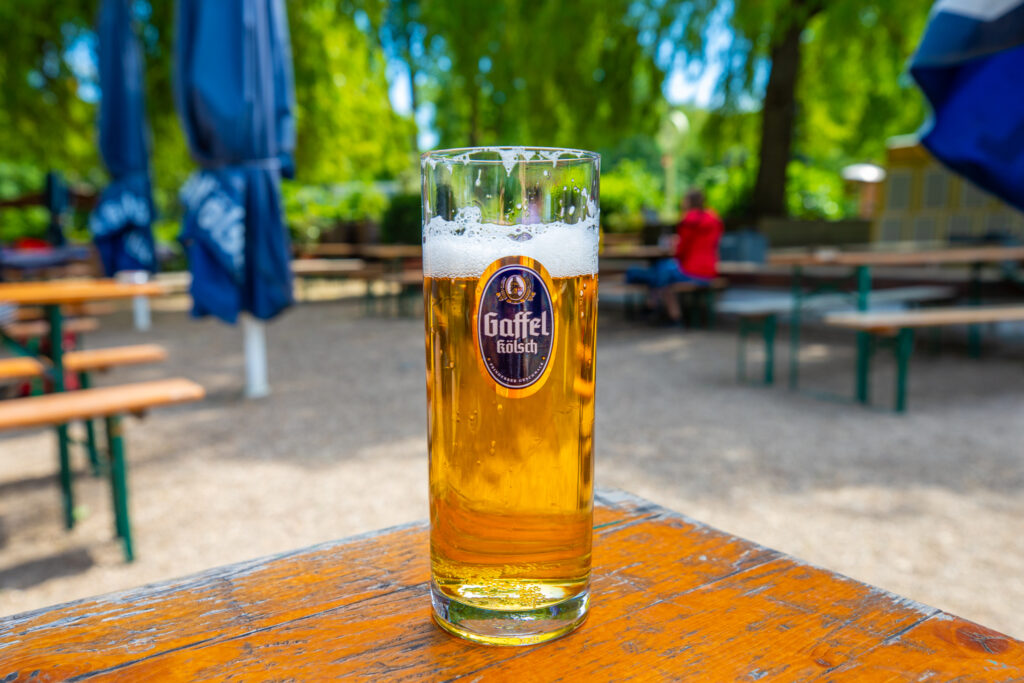 ALONG THE RHINE
Rhein-Terrassen & Beach Club
Who doesn't want to drink Kölsch with a view of the Dom Cathedral?!? At the Rhein-Terrassen biergarten and beach club, you'll have spectacular views of the church and Hohenzollern bridge. This is the perfect place for enviable Instagrammability! You can stick your feet in the soft sand from the comfortable beach chairs that line the Rhine river. It will really give you the feeling of vacation in the heart of Cologne! This Cologne beer garden is perfect for visitors arriving to the city by cruise ship or train to Messe Deutz train station.
Biergarten am Rheinauhafen Johann Schäfer
If you're looking for a break from Kölsch beer but still want a beer garden experience in Cologne, check out the Rhine beer garden from Johann Schäfer at the Agrippa shipyard. This microbrewery, hailing from the Südstadt neighborhood, offers a varying selection of beer, including a house brewed Pils and Hell, alongside a selection of Kölsch. The patio is huge with large picnic tables and massive umbrellas, perfect for big groups. Their motto is to "have fun eating" which you certainly will when you enjoy their regionally and seasonally inspired cuisine.
Harbor Terrace at Schokoladen Museum
Conveniently located on one of the busiest stretches of the Rhine river bank, the Harbor Terrace beer garden sits directly in front of the Chocolate Museum. This relaxing terrace offers an assortment of drinks, including beer, wine, coffee and soft drinks. If you get peckish, you can grab some light bites, like currywurst or tarte flambee, at the Sailor Grill street food stand next door. While sipping your refreshing Kölsch beer, look up at the Malakoff Tower, a historic gate tower constructed in 1848.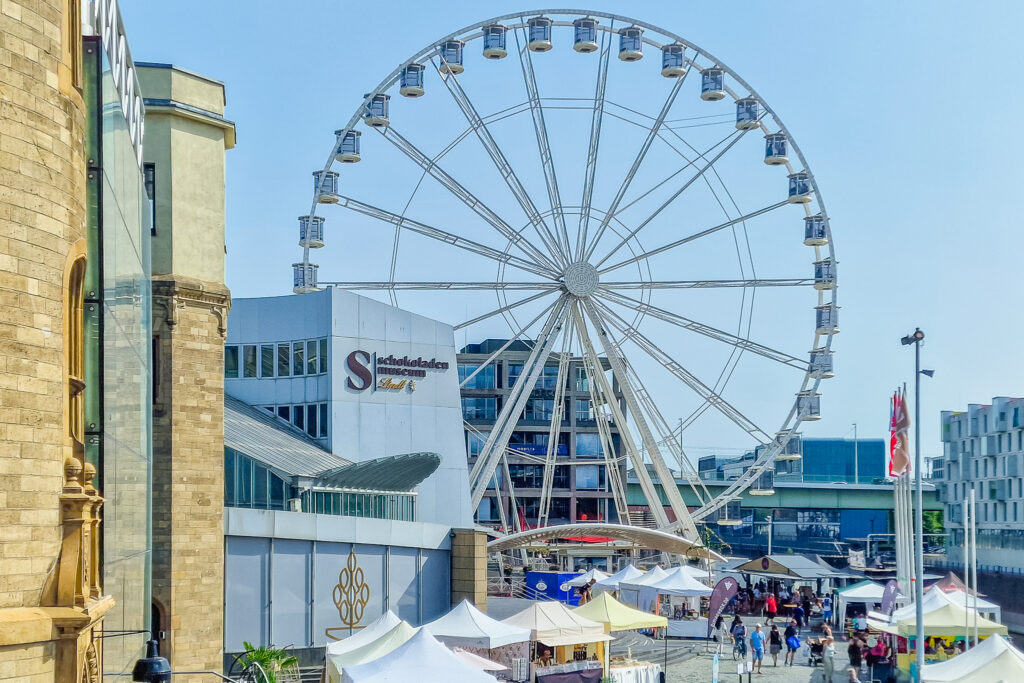 IN COLOGNE PARKS
Hellers Volksgarten
Watch people ride pedal boats around the Volksgarten pond at this idyllic beer garden in the heart of one of Cologne's most beloved parks. You can order a Hellers Kölsch to take away, or you can grab a table at the beer garden. If you stay in the beer garden, you can also order hearty classic German cuisine like schnitzel and spaetzle. This is a great place to relax in the sun and really feel like a local.
Rathenauplatz
Only open from April through to October, the beer garden at Rathenauplatz is run by a citizens' coalition. We can thank dedicated local residents for one of Cologne's best beer gardens! Located just a few steps away from the Zülpicherstrasse nightlife, the beer garden in Rathenauplatz welcomes locals and travelers alike. You can admire people playing bocce (or boules) or enjoy live music while driving your Kölsch. This community-run operation is well-loved by residents, so you'll find that it is a popular place on weeknights and weekends. The food is provided by Wagenhalle from the Südstadt neighborhood, while the Kölsch comes from Hellers brewery.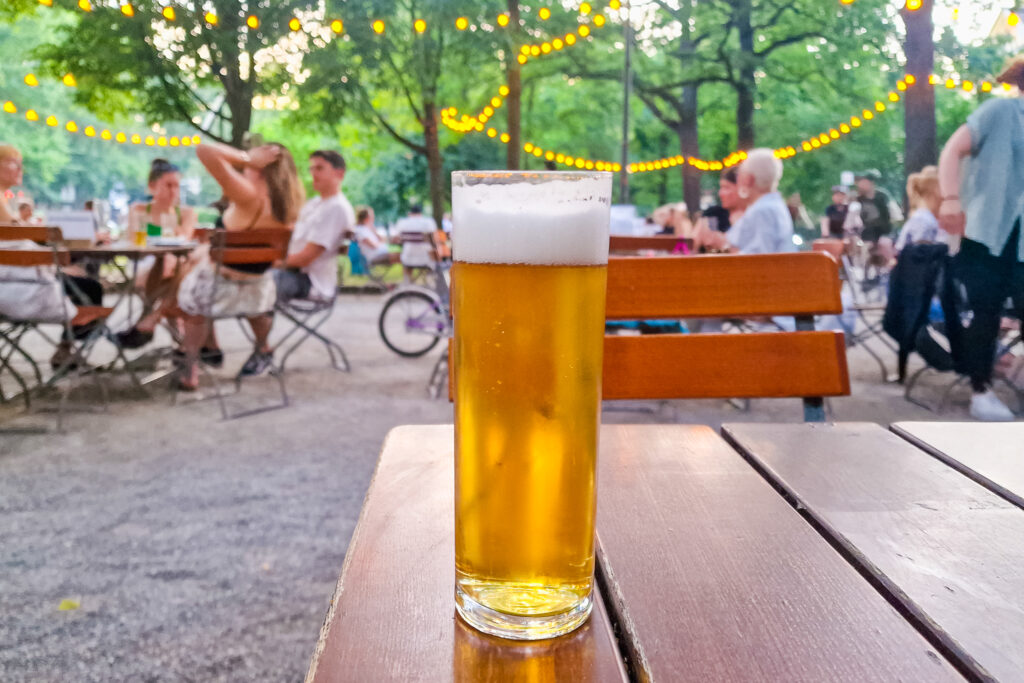 Biergarten am Aachener Weiher
Aachenerweiher is the hangout spot for Cologne residents during the summer months. There is a buzzing atmosphere of students, locals and tourists all hanging out, throwing a frisbee or grilling their favorite sausage. This is one of the best beer gardens in Cologne, because it has a lovely view of the lake, copious TVs for sports viewing, and a friendly staff. On Google maps, you'll see the park listed as Hiroshima-Nagasaki park, thanks to the Japanese cultural center located here. But locals call it Aachenerweiher, which roughly translates to the "little lake on Aachener street".
Dank Augusta
Found inside Cologne's only botanic garden, the beer garden at Dank Augusta might be the most picturesque drinking location on this list. You can sip a refreshing beer while surrounded by unique flora and fauna! Named after the wife of Prussian King Wilhelm I, these botanic gardens are dedicated to her patronage. The food at Dank Augusta is especially noteworthy, specializing in appetizing health food and seasonal specialities. Once you're done with your Kölsch, wander the acres of sprawling lawns, individual gardens, and 10,000 different species of plants which call the Flora Botanic Garden home.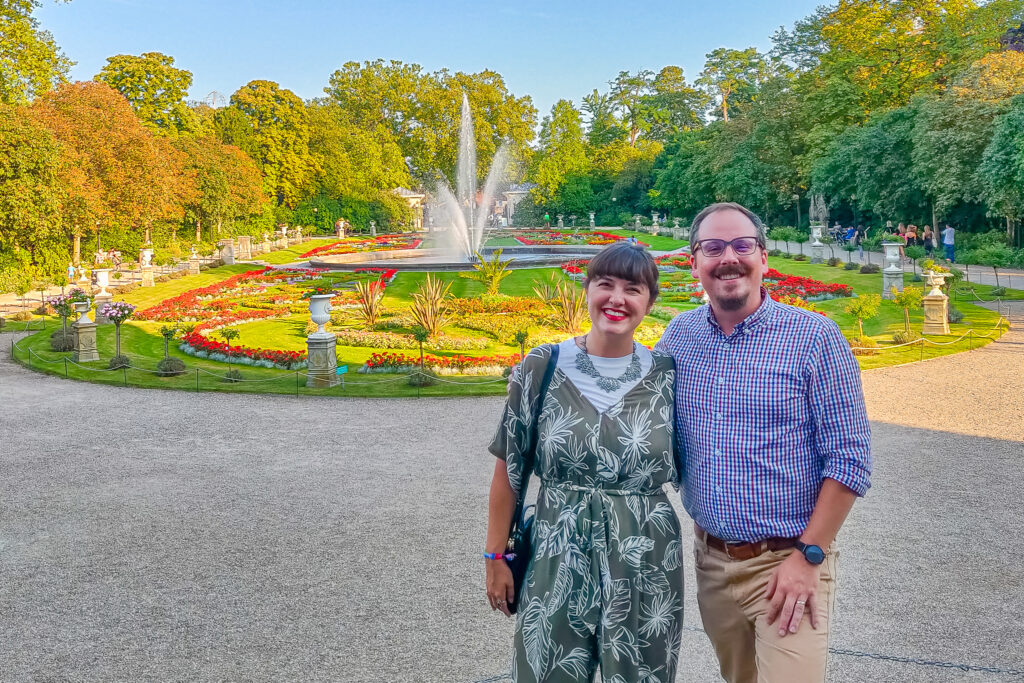 NEIGHBORHOOD SPOTS
Haus Unkelbach
With a massive patio in front of the brauhaus, Haus Unklebach is in the running to be Cologne's best outdoor drinking experiences. Plus it is at the brewery, which is a unique feature on this beer garden list. Set back from the street and decorated with bright red and white flowers, the beer garden at Haus Unkelback transports you out of the city and into a peaceful oasis. Serving Reissdorf Kölsch, the atmosphere and ambiance at Haus Unkelbach is always really fun and lively. It is beloved by the neighborhood residents and you'll always see groups of friends meeting or families gathering.
Alteburg
This beer garden is a local secret! Alteburg is primarily an event space, hosting weddings, corporate gatherings and intimate concerts. But in the summertime, it opens its doors to the public as a beer garden. The walled inner courtyard only holds about 170 people, so it feels like a cozy spot where you can meet and greet with people of all ages. Serving Gaffel beer, Alteburg Beer Garden sits tucked away along the train tracks in the Bayenthal neighborhood. The hours just seem to slip away here as you drink, chat and enjoy.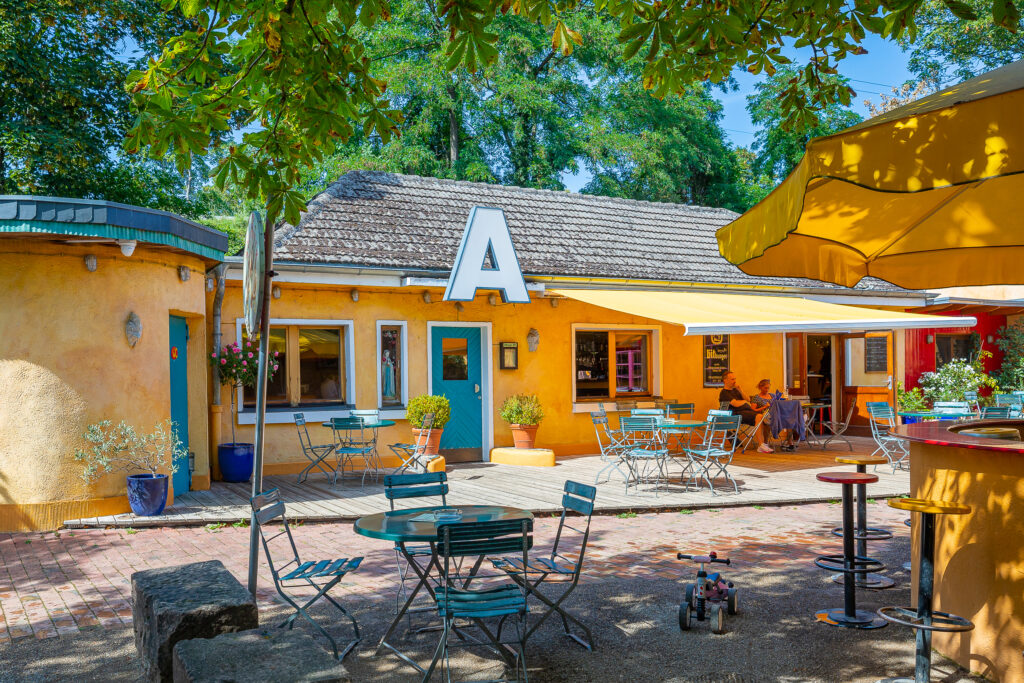 If you want to dive deep in the culinary traditions of Cologne, consider joining us for a Kölsch culture and food tour. Our expert local guides know all the best restaurants and bars to ensure that you experience the best of traditional Kölsch food and drink.
Looking for more tips on Kölsch beer in Cologne? Check out our brauhaus and brewery guide!