Kölsch Beer & CUlture Tour
Like many cities in Germany, Cologne is passionate about their beer. The local brew is called Kölsch, and it is beloved by the citizens of Cologne. On Art of Touring's beer and culture tour, you'll discover the highlights of Cologne's history before diving deep into Kölsch beer traditions.
Kölsch is a clear, light, and crisp lager that is typically served in .2L glasses. Perfect for drinking all year round, locals and tourists alike enjoy sipping Kölsch at one of the many brauhaus pubs around the city. Our guided tour includes stops at two different locations in the Old Town. 
In order to be properly called a Kölsch, German regulations stipulate that the brewery must be within 30 miles of the Cologne Cathedral and must brew the beer according to the Reinheitsgebot, or German purity law. Kölsch is the only beer in Germany to have a special protected geographical status.

Walking tour format, exploring key highlights of Cologne

Two brewery stops with 1 beer included at each

Offered throughout the year, 7 days a week

Flexible starting point around city center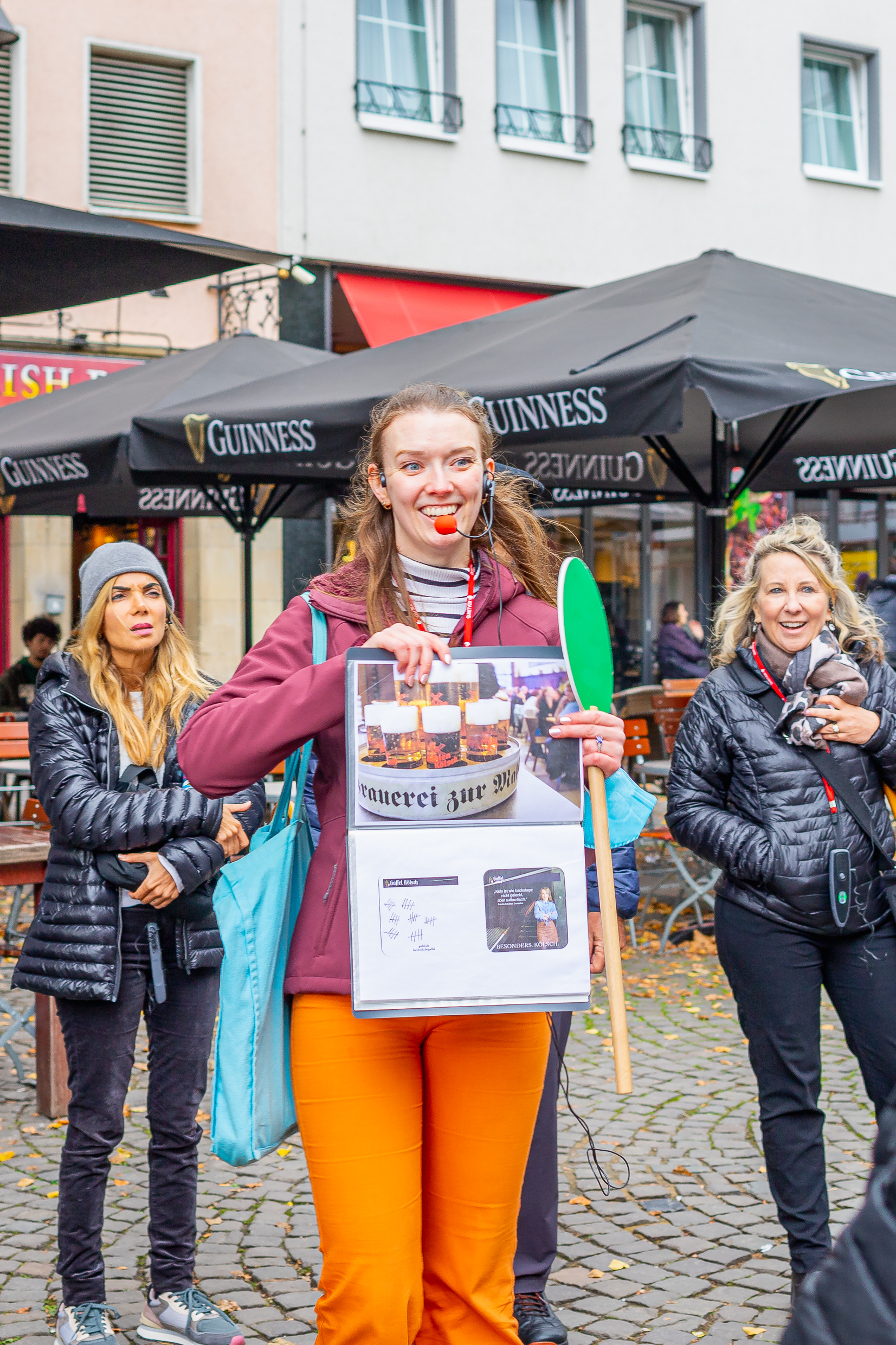 HIGHLIGHTS FROM THIS TOUR
Kölsch Traditions
Learn about the unique culture of Cologne, including Karneval, beer traditions, and Kölsch brewing. Locals say that Kölsch is the only culture you can drink!
Cologne Cathedral
This is THE attraction to see in Cologne, so naturally a tour about local culture will stop at the stunning Cathedral. Admire the gothic style and detailed towers. 
Kölsch Beer Tasting
Sample two different Kölsch beers from two different Altstadt breweries. Art of Touring handpicks the brauhauses to ensure you sample the best beer in town!
Details About Kölsch Beer & Culture Tour
Duration
Depending on the arrival and timing of the client, this tour can be adjusted in 30 minute increments. It is most often offered in a 2 hour format, but it can be shortened or extended to meet your individual needs.
2 Hours
Adjustable to client needs
Languages
Art of Touring has guides who speak many different languages. Most commonly, we offer English, German or Spanish tours, but other languages can be made available upon request.
Multiple
Language preference based on client request
Starting Location
This tour can start from many different locations, depending on the needs of the client. Most of the time, it will begin at a cruise dock along the Rhine River or at the Gereonstrasse bus station. Location can be easily adjusted to accommodate client needs.
Flexible
Typically Rhine banks or Gereonstrasse
Walking Distance
Cologne's Altstadt does not spread out over a large area, so this walking tour is appropriate for all skill and fitness levels. The route can be adjusted to accommodate gentle walkers or families with young children.
2-4km
Minimal hills or elevation
Breweries & Stops
We work with a number of breweries in the Old Town area of Cologne, including Früh, Gaffel and Sion. Depending on the day of the week and size of the group, we vary the brewery locations visited on the tour. Regardless of which breweries are visited, one Kölsch beer will be included per guest at each location. Each of our tour guides takes a slightly different approach to their walking tours. They highlight unique stories and perspectives, giving each tour an individual flair.
Flexible
Featured highlights and varied individual stops
Are you ready to book this
Old Town Tour?