This tour is highly focused on storytelling instead of sightseeing, attempting to bring Cologne's long Jewish heritage to light. Cologne is said to be the city with the longest-lasting Jewish community north of the Alps. Since approximately the first century, the Domstadt has been home to a vibrant Jewish community that has experienced many moments of triumph and tribulation. 
As can be expected, the subject matter of this tour covers dark periods of German history and at times, can be emotionally challenging. There are intense moments, but our guides do their best to cover the Jewish community's cultural heritage and influence from nearly 2,000 years of history in Cologne.

Walking tour format, highlighting important Jewish sites

Offered throughout the year, 7 days a week

Flexible starting point around city center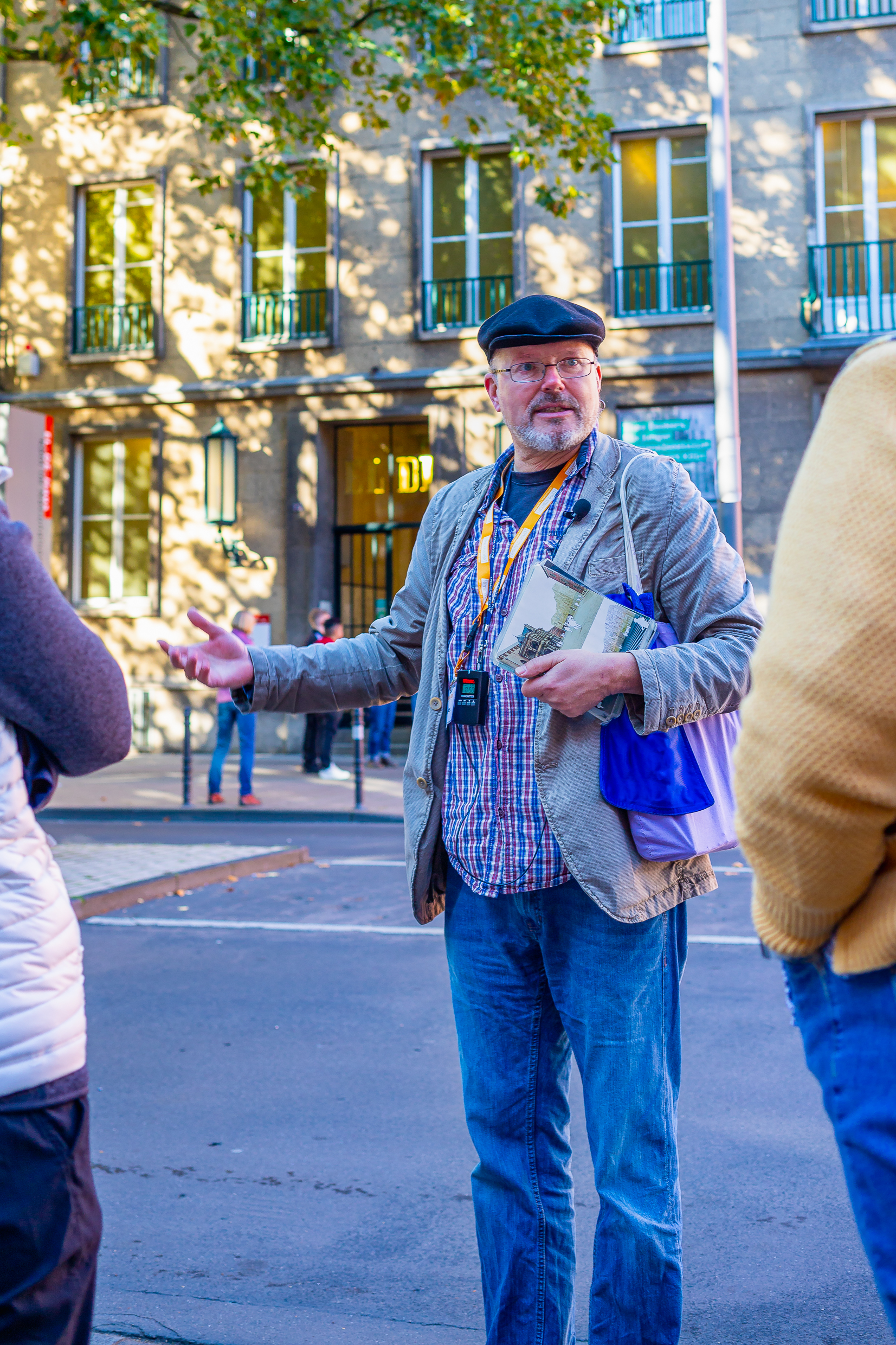 HIGHLIGHTS FROM THIS TOUR
NS-Dok Center
Once the headquarters of Cologne's branch of the secret Gestapo police from 1935 to 1945, this museum now serves as a memorial center for victims of the Nazi regime.
MA'ALOT Gateway
Created by famed Israeli designer Dani Karavan, this often overlooked gateway statue plays with form and numerical symbolism to represent Jewish ascension and resilience.
Stumbling Stones
More than 70,000 of these Holocaust rememberance stones are placed around Europe. Each Stolpersteine commemorates a victim outside their last known residence.
Details About the Jewish History Tour
Duration
Depending on the arrival and timing of the client, this tour can be adjusted in 30 minute increments. It is most often offered in a 90 minute format, but it can be shortened or extended to meet your individual needs.
1 to 2 Hours
Adjustable to client needs
Languages
Art of Touring has guides who speak many different languages. Most commonly, we offer English, German or Spanish tours, but other languages can be made available upon request.
Multiple
Language preference based on client request
Starting Location
This tour can start from many different locations, depending on the needs of the client. Most of the time, it will begin at a cruise dock along the Rhine River or at the Gereonstrasse bus station. Location can be easily adjusted to accommodate client needs.
Flexible
Typically Rhine banks or Gereonstrasse
Walking Distance
The most important locations for Jewish history & culture are spread around Cologne's Altstadt.  This walking tour is appropriate for all skill and fitness levels. The route can be adjusted to accommodate gentle walkers or families with young children.
2-4km
Minimal hills or elevation
Historical Stops
Each of our tour guides takes a slightly different approach to their Jewish history walking tours. While the subject matter of this tour can be intense, our guides attempt to also highlight moments of resilience and triumph from the Jewish community in Cologne. This tour is highly focused on storytelling instead of sightseeing, as many of the important Jewish locations were destroyed.
Flexible
Featured highlights and varied individual stops
Are you ready to book this
Jewish History Tour?