Hit the streets of Cologne on two wheels – via bicycle! Grab your helmet and hop on your bike to join us for this energetic biking & sightseeing tour through Cologne's Altstadt and along the Rhine River. You'll experience the major highlights while enjoying some fresh air. 
Please don't be intimidated – this is not a race.
Our bicycle tour is completely customizable to the fitness levels of our groups. If you are a slow rider, no problem! If you used to riding in an urban environment, also no problem. Our guides can adjust the length and speed to accommodate all types of bicycle riders.


Offered throughout year on clear weather days

Flexible starting point around city center

Bikes can be provided or guests can bring their own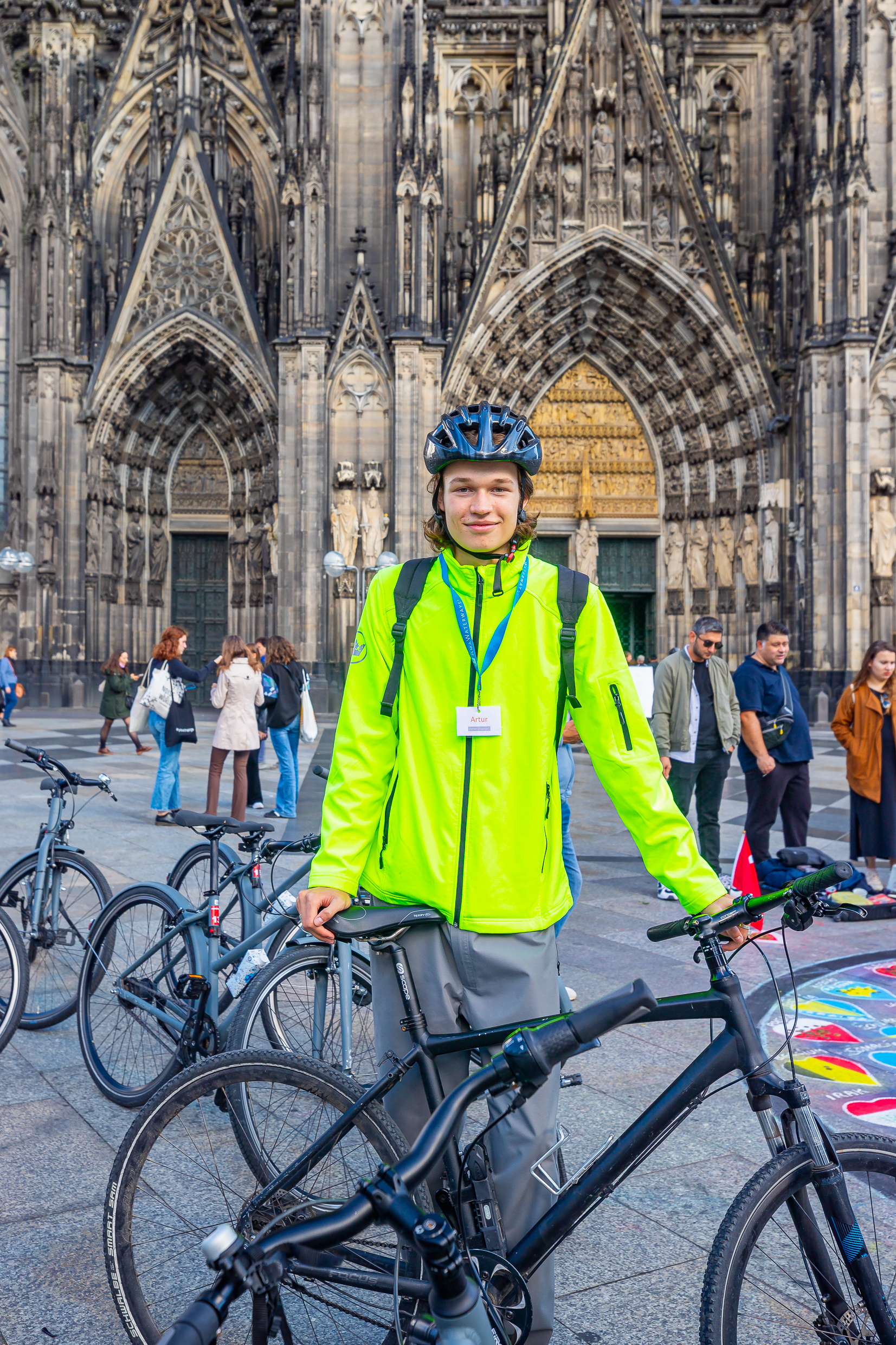 HIGHLIGHTS FROM THIS TOUR
Cologne Cathedral
This is THE attraction to see in Cologne, so naturally our biking tour will stop at the stunning Cathedral. Admire the gothic style and detailed towers. 
Rhine River Banks
Enjoy Cologne's unique architecture and skyline from the banks of Germany's most important river. A beautiful paved path lines both sides of the Rhine.
Hohenzollern Bridge
Cross the mighty Rhine river on Cologne's most iconic rail & pedestrian bridge. You'll notice thousands of colorful padlocks symbolizing eternal love.
Details About Bicycle Tour of Cologne
Duration
Depending on the arrival and timing of the client, this tour can be adjusted in 30 minute increments. It is most often offered in a 90 minute format, but it can be shortened or extended to meet your individual requests.
1 to 2 Hours
Adjustable to client needs
Languages
Art of Touring has guides who speak many different languages. Most commonly, we offer English, German or Spanish tours, but other languages can be made available upon request.
Multiple
Language preference based on client request
Starting Location
This tour can start from many different locations, depending on the needs of the client. Most of the time, it will begin at a cruise dock along the Rhine River. Location can be easily adjusted to accommodate client needs.
Flexible
Typically along Rhine River
Biking Distance
Designed to be inclusive of various fitness levels, the length and distance of our biking tour is completely customizable. We will ask you about your needs during the booking process. Our guides can easily adjust the speed to accommodate all types of bicycle riders.
5 -10 km
Minimal hills or elevation change
Route
Each of our tour guides takes a slightly different approach to their biking tours of Cologne. They highlight unique stories and perspectives, giving each tour an individual flair. Unless otherwise requested, most of the biking tours will follow a paved bike path along the Rhine River.
Flexible
Featured highlights and varied individual stops
Are you ready to book this
Biking Tour of Cologne?