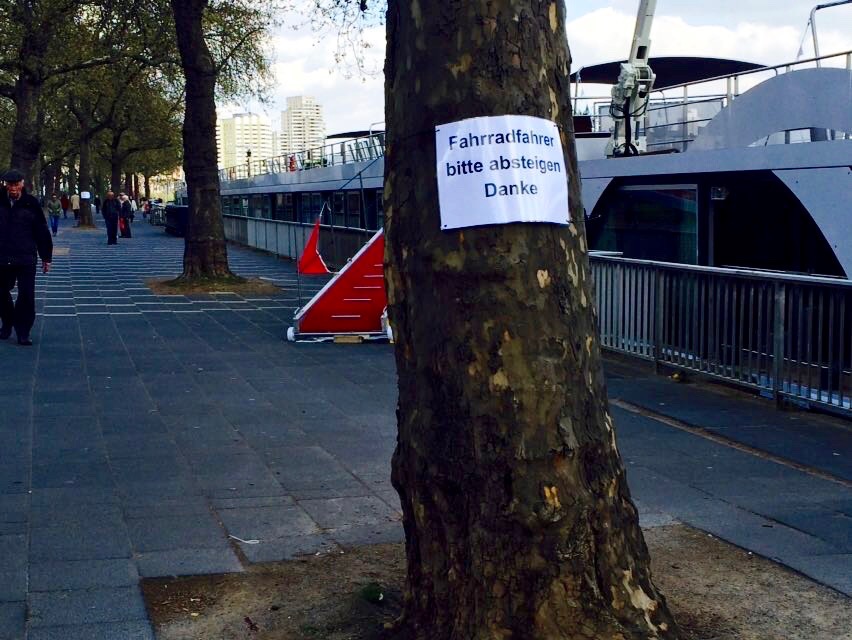 A guided walking tour that usually starts right at the docking station of the river cruise ship can be quite a challenge in the old town of Cologne. The boardwalk is not only used by pedestrians to casually stroll around but also highly frequented by bicycle riders. The old town is basically located right in between the Hohenzollern Bridge and the Deutz Bridge on the western bank of the Rhine (where the Cathedral is). Underneath that area is an expressway tunnel, connecting the north and the south of the city, so that people strolling around should not be bothered by cars. As bicycles can't go through that tunnel, they are allowed to share the boardwalk with the pedestrians. So people are now instead bothered by cyclists. Travelers who just arrived in Cologne from Amsterdam usually have some experience already with this process, as there are a lot of bicycles in Amsterdam.
Before we start our walking tour through the old town I usually warn people, that we have a different breed of cyclists here than in Amsterdam: Here it's angry German bicycle riders. I'm of course only joking around. But guided walking tours, especially during the week in the morning, can in fact be quite a challenge as these tours mostly start around 9 AM and this is, when locals have to get to their office desk and as the bicycle is very much used for transport and not only for recreation, especially in the inner city. Of course a lot of people are already running late to get to work, when they might encounter a joyful group of people on their vacation, having a good time and block the boardwalk. That they don't like. If you are the only punished with an angry ring of the bell and a stink eye, you have been let off the hook easy as the risk of a collision is always possible.
Have a good time, enjoy yourselves but pay attention to your surroundings and not your smartphone on the riverbanks of Cologne.
PS: The picture above shows an attempt by the cruise manager of the Rhine river cruise ship that just docked at the bank, to take matters in his own hands. "Fahrradfahrer bitte absteigen. Danke." literally translates into "Bicycle riders, please dismount. Thanks." – Well, good luck with that.