We are so excited to see Cologne old town walking tours start again! Due to the global health crisis, walking tours have been cancelled in their hundreds. But now the situation is somewhat improved, we can start showing our guests the glorious city of Cologne once again.
This is the story of our first tour of the year. Finally!

We collected the guests from their cruise ship. It was one of the first to make its way through Cologne, heading up the Rhine. 

Walking through the old town
Then it was time to head off into the old town (known as the Altstadt). This is one of the most picturesque areas of the city. 
Our group had it all to themselves!
We stopped off at Fischmarkt, Great St Martin's church, and paid a visit to two of Cologne's most famous residents – Tünnes and Schäl. They are fictional characters that make fun of the stereotypes of typical Cologne residents.
Introducing Tünnes and Schäl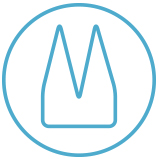 Just look at that Cathedral!
We then stopped off at the Cathedral. It is still very quiet around the World Heritage site – at least compared to a normal year.
Our guests for this tour were mainly from Germany, so had heard of the cathedral, but there were still many questions and details to explain.

Then, as a finishing touch, we went to Gaffel am Dom. In this classic Cologne pub, we enjoyed a typical local brew: Gaffel Kölsch. The clear, smooth, golden tipple was a perfect thirst quencher.
For more about our favorite pubs in Cologne, see our other article. 
Now we are going again ...
We are excited to welcome you back to Cologne for our tour of the old town or one of our other experiences.